How Long Does It Take to Learn to Scuba Dive? 
| Course  | How Long to Complete (Average) |
| --- | --- |
| PADI Open Water Course | 3-4 days |
| PADI Advanced Open Water Course  | 2-3 days |
| PADI Rescue Diver | 2 days |
| PADI Divemaster | Anywhere from 6 weeks to 6 months |
| PADI Instructor | Anywhere from 21 days to 2+ months |
| PADI Specialities | 2-4 days |
| | |
| SSI Advanced Adventurer | 2-3 days  |
| SSI Stress & Rescue | 2-3 days |
| SSI Dive Guide | Usually 4-8 weeks |
| SSI Instructor | Anywhere from 12 days to 1+ months  |
Did you know that every year over 1 million people worldwide learn to scuba dive and get scuba certified!
Getting your scuba diving certification is a licence to great adventures!
Scuba diving is an amazing experience, and getting certified means you don't have to jump in the pool each time before heading out, instead, you can flash your certification card to the dive centre, and away you go!
There are many stages to scuba diving, but the first is the Open Water Course.
This is then followed by the Advanced Open Water Course, Rescue Course, Divemaster Course, and for those wanting to make a career out of diving or simply go all the way, there is the Instructor Course!
How Long Does It Take To Be Certified?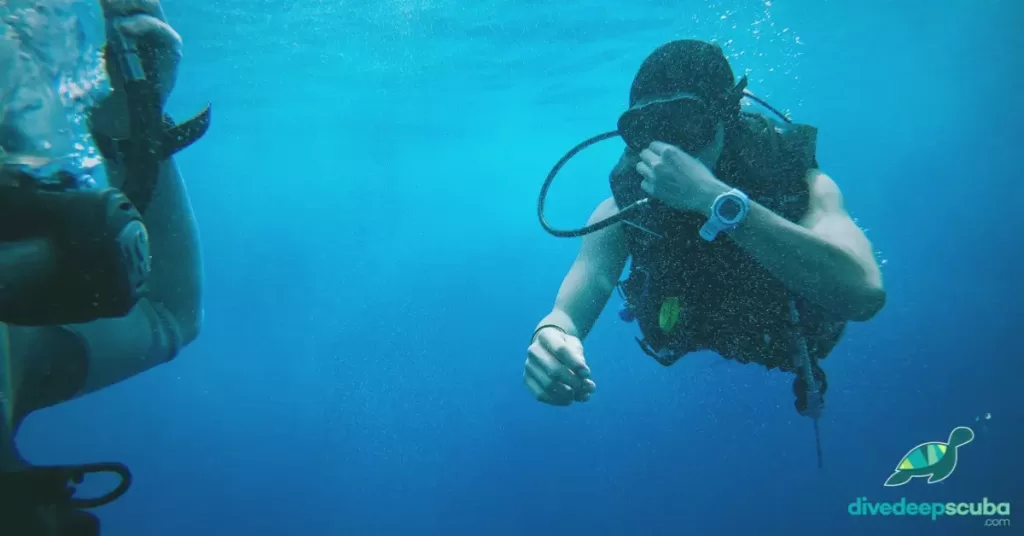 It depends on you. Diving professionals help you to become a comfortable and confident diver, not someone who can complete it in the quickest time possible. 
This means you can go at your own pace, especially with the Open Water Course as there are many different schedules instructors can choose from. After demonstrating skills and completing the theory correctly, you will be a certified diver!
Whether it be PADI, SSI, BSAC, or another diving organisation, you should expect the courses to roughly take around the same time to complete.
What Does It Take to Be Scuba Certified?
To be scuba certified you MUST complete all 3 steps:
As mentioned, the first step to learn to scuba dive is completing the Open Water Course. Before you even set eyes on the pool or ocean, you need to ask yourself "should I scuba dive".
You must answer this honestly, and you may need to sit down with your doctor if you have preexisting or history of any medical conditions. 
You will be asked to fill out a medical form before you can start the course. If you select "YES" for any of the listed medical conditions, you will have to visit your doctor to get the all-clear before your instructor can continue. 
Independent Study: The Theory Part!
With all the above diving courses, you must complete the theory, which consists of knowledge reviews to test your progress, and finally the end exam. 
Most dive associations are now using E-Learning packages. By opting for online learning, you can go at your own pace, fit it around your daily schedule, and it is much more environmentally friendly!
If you prefer the "old-school" ways of learning, you can request the hard-copy book if you are training with PADI. SSI and BSAC only do the E-Learning option for theory now. 
Confined Water Dives
This is where you learn to master some skills, usually in a swimming pool. 
The pool sessions should take 1-2 days depending on how competent you are feeling. If you need more time, you can ask your instructor for private lessons.
Open Water Dives
Once you have mastered the skills in the pool (or another controlled environment), it is time to head out into the ocean! 
You will need to complete 4 dives, usually over 2 days if the conditions allow. If the weather conditions are poor, your instructor will rearrange those dives for another time. 
So, overall to learn to scuba dive with the Open Water Course (or equivalent) should take 3-4 days, depending on the student. 
How Old Do I Have to Be to Learn to Scuba Dive?
To get your Open Water Course, PADI offers the PADI Junior Open Water Course for children aged 10-14 years old. When they reach 15 years old, they are automatically upgraded to the Open Water Certification – no extra training is necessary.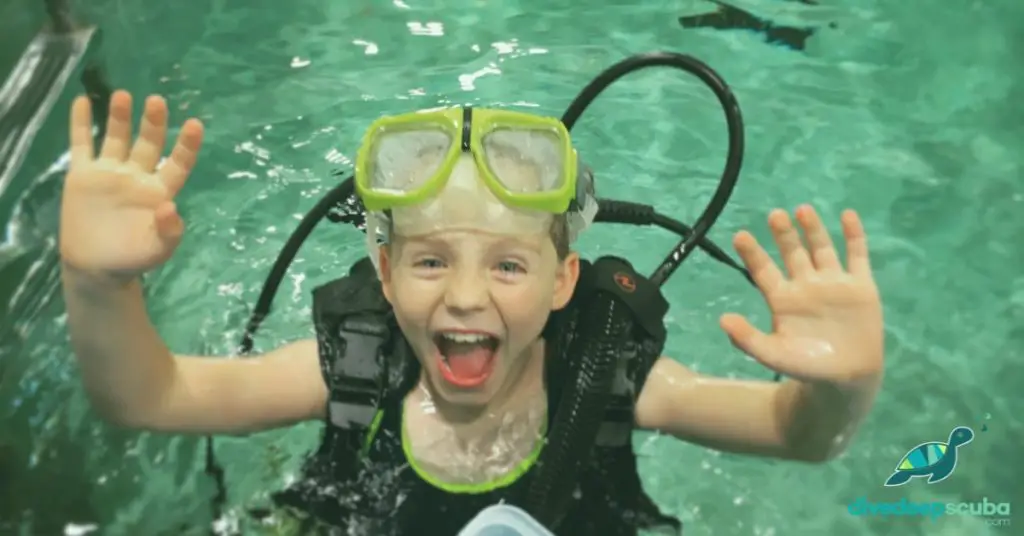 SSI follows the same minimum age limit of 10 years old for their Scuba Diver Course. 
There is no maximum age to learn to scuba dive, however, if you are over 65 years old, it is highly recommended you see your doctor beforehand to check you are "fit to dive". 
How Much Does It Cost to Learn to Scuba Dive?
You should expect to pay between £255 ($350) and £364 ($500) to get your Open Water Course (or equivalent) but this depends on where in the world you decide to learn to scuba dive .
It may sound like a lot of money, but this certification is for life!
You do not have to continue your diving level if you do not want to. However, most divers will continue their education to allow them to go deeper or take diving speciality courses so they can penetrate wrecks or dive longer using Nitrox, plus scuba diving is totally addictive!
I Do Not Think I am Ready to Learn to Scuba Dive…
If you do not want to invest the time and money into a certification course, you can do a "try-dive".
PADI offer the Discover Scuba Diving Course (DSD), which only takes one day to complete. 
SSI offers the same, under the name Basic Diver (BD). 
This involves:
Completing a medical form
A short multiple-choice quiz 
One confined water session to learn a handful of pool skills and to feel comfortable in the water
Complete one open water dive (this is optional)
NOTE: Completing the SSI TD Course and PADI DSD Course does not mean you are scuba certified, but they can go towards your Open Water Course – as long as you complete it within 6 months after the PADI DSD or SSI BD Course. 
Don't Forget Your Dive Insurance!
Before you go out on any dive trip or holiday, it is essential to make sure you have insurance that covers you if something goes wrong. Check out our dive insurance article for more information.
Or go straight to these dive insurance company websites:
If you liked this article, please follow us on Instagram, Twitter and like our Facebook page
To Finish
So on average, to learn to scuba dive, it should take 3-4 days – not long for a lifetime certification right?!
Do not worry if it takes you a little more time than listed above, some divers take a little more time to get comfortable with skills and the theory parts (those tests can be quite challenging!). 
The most important thing is to make sure you fully understand all the training so you do not become a hazard to yourself or others underwater, and are trained well enough to enjoy your time underwater!
Good luck with your training, and welcome to the diving club!
Please share this article using the social media buttons!