Do You Need Special Travel Insurance for Scuba Diving?
Every year over 1000 scuba diving accidents are reported to DAN (Divers Alert Network). Dive accidents can happen for many reasons, which is why every diver should have special travel insurance that covers scuba diving or additional dive insurance on top of regular travel insurance if it is not covered. 
So you booked a diving holiday to an awesome diving destination in the world or are heading out to your local dive spot…have you got everything packed including dive insurance or travel insurance that covers dive accidents?
Scuba diving insurance should never be an option, it should always be a priority.
Diving insurance is there so you don't have to pay hefty medical bills for potentially life-threatening injuries that some travel insurance companies do not cover. 
Whether you plan to dive once a year or every day, special travel insurance and scuba diving insurance is essential for dive safety even if you are diving right on your doorstep.
This article will cover why getting scuba diving travel insurance is important and the best insurance companies that cover dive accidents. 
Risks to Scuba Divers & Why You Should Have Diving/Travel Insurance
While scuba diving is a relatively safe sport if you follow the rules and never dive beyond your limits, accidents can happen. The ocean can be unpredictable and we can experience dangers underwater which we are not always prepared for. 
There are certain risks that scuba divers face which is why getting insurance is so important and saves spending all your holiday money (and possibly more) on medical care, rearranging flights, and extending your stay if diving in a foreign country. 
Below are the risks that scuba divers can face:
Decompression sickness (DCS), also known as "the bends"
Ear & sinus barotrauma
Pulmonary barotrauma 
Arterial gas embolism (AGE)
Whether you are a beginner scuba diver or a dive professional, you could face any of these risks when scuba diving, making it a mandatory obligation to get dive insurance. 
You may be thinking, it has never happened to me before so why should I get insurance for a single dive trip…
For example, if you suffer from DCS, you will need to be transferred to the nearest hyperbaric/recompression chamber, which can cost you thousands of pounds/dollars.
Plus you are probably going to need to extend your accommodation and rebook flights, which a dive insurance company will usually cover. It is always better to fork out a little bit of money for insurance and be covered should you need it!
If you are just making a short dive trip, you can also get short term insurance which is designed for short-stay holidays. However, if you know you will be planning a few dives in the year, it is worth getting annual dive insurance, and the price difference is not that much anyway.
What Does Diving Travel Insurance Cover?
Major scuba diving accidents are unlikely to happen if you follow your training and stay within your diving limits, but insurance is there just in case something does go terribly wrong. 
Even though travel and diving pretty much go hand in hand, even some of the best travel insurance companies do not cover diving accidents while abroad. 
Depending on who you purchase travel insurance with, depends on if they will cover scuba diving. Always ask the travel insurance company if they cover scuba diving in their policy, and what the coverage is. 
Standard Cover
If something does go wrong, comprehensive travel insurance will usually cover the following:
Lost or stolen dive equipment
Medical – check if hyperbaric treatment is covered
Cancellation of trip
Liability 
Rental car excess 
What Is Usually Not Covered?
Some things are not covered with standard travel insurance cover when it comes to scuba diving, such as: 
Alcohol or drug-related claims 
Diving without a diving licence
Diving deeper than your training allows 
Late-term pregnancy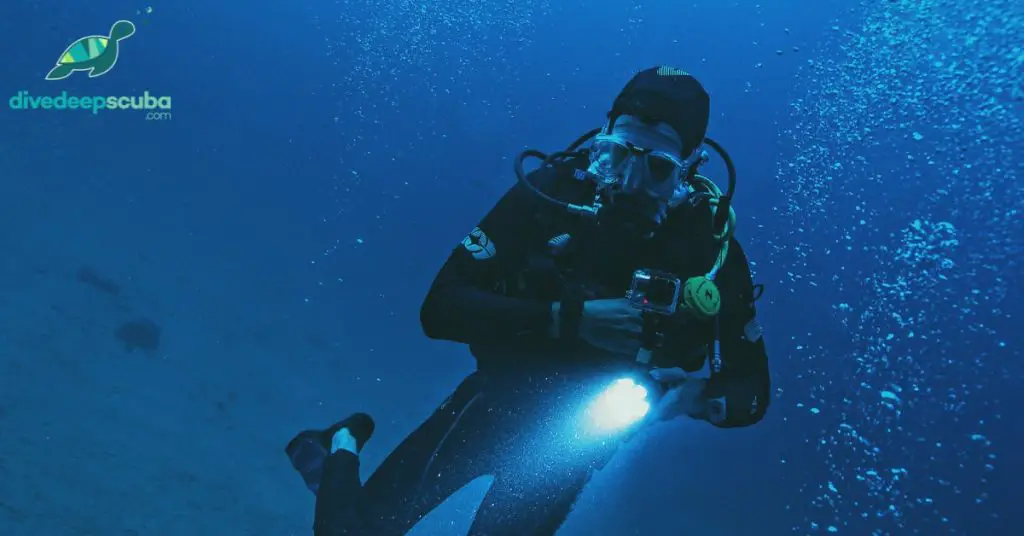 Where to Get Dive Specific Insurance?
Do you have an expensive dive kit, or are you a frequent diver or dive professional? If so, you are going to want to get specific dive insurance that covers all your needs! 
Selecting the right dive insurance can be a minefield, which is why we have done the hard work for you!
Below are the recommended dive insurance companies specifically designed for scuba divers around the world. 
Divers Alert Network (DAN)
World Nomads 
DiveAssure
DiveAssure is a dive insurance company that also offers travel insurance. They do both dive only and dive and travel packages specifically for divers.
DiveAssure Dive Plans.
For divers from the United States, the Dive Only Plans cost from $49. They have two levels of Dive and Travel Plans; Dive and Travel (from $77 for short term insurance and $209 for annual policies and Dive and Travel Plus (from $129.80 for short term and $310.20 for annual insurance).
Dive only and Dive and Travel Policies are great for basic dive accident protection, but Dive and Travel Plus gives you higher limits and wider coverage. 
DiveAssure doesn't have gas usage or depth limits for any of their policies which makes it a great option for both recreational and tech divers. If you have to cancel a dive due to a medical inability or poor weather, DiveAssure will give you compensation. 
All their insurance policies include Covid-19 related medical expenses and trip interruption benefits if you have booked a covered trip with them. 

Divers Alert Network (DAN) 
Divers Alert Network (DAN) offers pretty reasonably priced policies tailored to a variety of scuba dives that start from $40/£30. PADI recognises DAN as a leading dive safety organisation providing good dive accident coverage.
If you are in a diving accident, DAN will pay 100% of medical bills up to $500,000 (£360,000), plus their plans are recognised worldwide!
The great thing about DAN insurance is that it doesn't have any gas or depth limitations, so as long as you dive within your limits, they will cover you. DAN does not cover lost or stolen dive equipment, however, if anything is lost or damaged as a result of a diving accident they will cover it.
Do note, that this does not include watches, straps, buckles, or photography equipment (cameras, strobes etc.). 
In the US & Canada, DAN insurance offers 3 different tiers: Master, Preferred, and Guardian. Each tier has different coverage, but before purchasing DAN insurance, you are required to join their membership and pay the membership fee ($35/£25). 
DAN Europe also offers many policies, but the two most common are Sport Plan and Pro Plan. 
Sport Plan (recreational divers, tech divers & freedivers): The DAN Sport Plan does not include professional liability insurance, you will need a Pro Plan for that. The sport plan covers worldwide accident insurance, medical transport, repatriation, and 24/7 emergency assistance. 
Pro Plan (instructors, assistant instructors & dive guides): The Pro Plan covers worldwide accident insurance, medical transport, repatriation, 24/7 emergency assistance, non-diving accident cover abroad, and professional liability cover and legal defence.
Both these policies come in Bronze, Silver, and Gold, depending on how much coverage you want, Bronze having lower coverage, and Gold the top coverage. 
Other plans with DAN Europe:
Dive Centre Plan: For dive centres, schools, associations & liveaboards
Student Plan: For dive professionals, to purchase for students participating in scuba diving training
Family Plan: For the whole family (max. 4 people)
Commercial Diving Plan: For industrial/commercial divers (inland/onshore and offshore activities) 
DAN travel insurance may provide coverage "if you, your host at your destination, a travel companion or a family member test positive for COVID-19", however always check this when purchasing your dive insurance. 
World Nomads
Scuba diving travel insurance with World Nomads is built-in coverage with regular travel insurance, so it only covers conventional scuba diving. They offer two policies: Standard (from $103/£75) and Explorer (from $183/£133). Depending on your diving level, it depends on which one will be best for you. 
Standard: For recreational scuba divers
Explorer: For commercial divers, cavern/cave divers, dive guides & dive instructors
World Nomads is slightly more expensive than the others, however, it is built into their general travel insurance packages along with many other sports you can take part in on your holidays. 
If you travel during the coronavirus pandemic, World Nomads may provide coverage for specified benefits if you test positive for the COVID-19 virus.
They may cover "emergency medical, emergency medical evacuation, trip delay and trip interruption coverage if you contract COVID-19 while travelling", check coronavirus specific cover with your country's World Nomads office. 
Note that most insurance companies will only cover covid-19 medical expenses if you are age 59 or under. 
Selecting the right dive or travel insurance can be tricky, but is relatively straightforward if you know how often you will be travelling and diving, and the level of cover you require.
Always match your requirements to the policies offered so you know you will be covered should you need to use it. 
5 Scuba Dive Safety Tips to Avoid Accidents
Below are five basic rules to follow to prevent you from needing that dive insurance.
You should:
Never drink and dive (or take drugs)
Never dive with a sinus infection, cold, or flu
Always perform safe ascents and descents 
More information on scuba diving related accidents and how to avoid them can be found here!
If you liked this article, please follow us on Instagram, Twitter and like our Facebook page
Final Thoughts
When scuba diving, special travel insurance is a must!
Before setting off, thoroughly check out the policies listed by travel insurance companies, and if you are not covered take out separate diving insurance with a well-renowned company such as DAN, World Nomads, or DiveAssure.
Never opt for the cheapest insurance as it is likely it will not cover everything, which could leave you with a very large medical bill should an accident happen. 
The water you waiting for? 
Pack your suitcase, print off your diving insurance coverage, and enjoy your dive trip! 
Thank you for reading, we hope to see you soon. 
Please share this article using the social media buttons!