What Age Can Someone Learn to Scuba Dive?
One of the best things about Scuba Diving is that it is incredibly inclusive. It does not matter how tall you are, your age, gender or strength, everyone can enjoy Scuba diving. 
It may come as a surprise that children can complete certifications from a very young age, but each certification has an age requirement. There are many benefits from starting Scuba diving as a child. 
The enjoyment, adventure and achievement in Scuba Diving can be experienced by all ages, allowing older individuals to not be restricted by their age either.
In this article, we will have a look at:
Youngest Age That Can Scuba Dive
Oldest Age That Can Scuba Dive
Certification Age Restrictions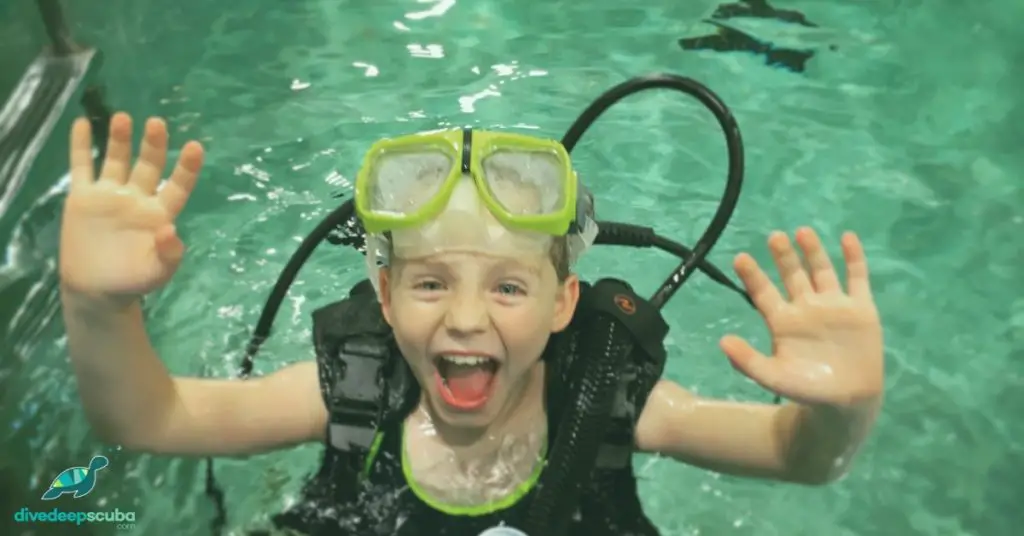 What is the Youngest Age That Children can Scuba Dive?
Most Scuba Schools accept students at eight years old to dive in a pool. When children turn ten years old they are eligible to become certified divers.
The ages at which children can complete certifications can vary between agencies. PADI offers programmes for children eight years and older, learning skills, environmental awareness and using Scuba equipment in the pool. But the maximum depth is two meters. 
Scuba diving is an incredible sport to get involved with from a young age. It provides opportunities for adventure, outdoor activities, exercise and developing awareness of the precious marine ecosystems. 
It might seem daunting at first, to allow a young child to take part in an activity that has risks, but with these risks come responsibility.
Instructors often find that kids are easier to teach, as they are eager to learn and more excited than scared.
Often, kids who love and are comfortable in the water will pick up the skills and safety required quite quickly. Children are capable of becoming great Scuba Divers!
What is the Oldest Age That You Can Scuba Dive?
There is no maximum age for Scuba Diving, allowing the sport to be enjoyed by people of all ages. 
However, a lot of Dive shops would like divers over sixty to have a medical exam. This shows that they are in good health, ensuring they are fit enough for the dive.
Of course, it does not only depend on age. Dives can vary greatly with their conditions, such as current, visibility and fitness requirements. 
An older individual might be very comfortable on a tropical dive with little to no current, but struggle to keep with the group when kicking against the current on another dive. 
The number of dives needs to also be considered. The great thing about scuba diving is that it can be taken up at any age, but the diver needs to make sure they are always diving within their limits.
An older Scuba diver with thousands of dives will be a lot more comfortable in difficult conditions than a diver the same age who only started diving that week.
So there is no maximum age for Scuba diving, but older individuals should complete a medical exam and ensure they are comfortable enough with the conditions of the dive.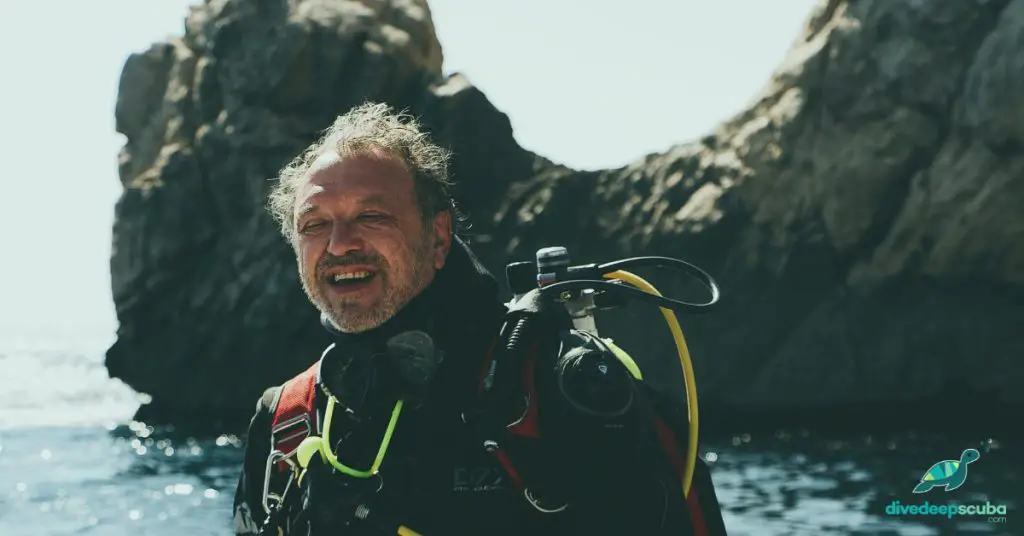 Certification Age Restrictions 
There are Age restrictions for all courses. PADI Open water is 12 years and older. The highest age restriction is 18 and older, for Divemaster and Instructor Development course. But you can start diving younger!
As mentioned before, PADI offers the Bubblemaker for children eight years and over. This is a small introduction to Scuba for children, with a maximum depth of two meters in a pool or confined water. 
The PADI Bubble maker is very popular with younger children, allowing them to get involved in the sport as soon as possible. Not only is it a great way to teach responsibility and exercise, but it is also incredibly fun!
Another exciting certification for young divers eight or older is the PADI seal team. This allows young divers to have action-packed sessions in pools, completing missions and overcoming problems. 
These young certifications are great ways to get younger children involved in the sport.
The Padi Junior Open Water Dive Course allows children between ten and fifteen who are able to swim, to earn a certification similar to the adult Open Water. The Junior Open Water has fewer students per Instructor and shallower depths. 
Once children twelve years and older have completed the Junior open water, they can move on to Advanced open water, Rescue diver and Enriched Air diver. 
The highest a twelve and older Scuba Diver can achieve is Junior Master Scuba Divers. Once they have perfected all the skills within this course, the next step would be Divemaster.
The PADI divemaster has an age restriction of eighteen and older. This course is where divers are put to the test, practising and perfecting their skills. During this certification, divers will learn how to become a fun and safe underwater guide!
The next PADI course is the Instructor Development Course, for those who would like to climb higher on the professional Scuba diving ladder. This course is also for Scuba divers eighteen and older, who have a passion for teaching and want to share the underwater world with everyone. 
Eighteen years and older is the highest age restriction, therefore if you are older, you can sign up for any of the certifications in the respected order. 
Don't Forget Your Dive Insurance!
Before you go out on any dive trip or holiday, it is essential to make sure you have insurance that covers you if something goes wrong. Check out our dive insurance article for more information.
Or go straight to these dive insurance company websites:
If you liked this article, please follow us on Instagram, Twitter and like our Facebook page
Final Thoughts
Scuba diving is an incredible sport, allowing people to explore the underwater world and have awesome adventures. This sport is very inclusive, allowing all individuals to take part, from young children to older adults. 
All certifications have minimum age requirements, to ensure they are mature enough for the responsibility and minimise risks. There is no maximum age, which allows individuals to take up Scuba diving as a new sport at any age throughout their life! 
Please share this article using the social media buttons!