Scuba Diving on Koh Tao (The Complete Guide)
| | | |
| --- | --- | --- |
| Dive Shop | Best For | Governing Body |
| Big Blue Diving | Entry-level and Technical Diving | SSI + TDI |
| Crystal Dive | Entry to Pro | PADI |
| Simple Life | Divemaster Internship | PADI |
| Phoenix Divers | Recreational Diving | SSI |
Four Of The Best Dive Centres On Koh Tao.
You have most likely heard about Scuba diving in the beautiful Gulf of Thailand. Koh Tao, located on the East coast, is famous for its turquoise waters and excellent beginner-friendly diving conditions.
Koh Tao is therefore a perfect place to learn how to Scuba dive, attracting hundreds of thousands of visitors a year. If you're planning on learning how to Scuba dive, check out our Scuba diving tips for beginners!
With this huge volume of travellers, there are of course many dive schools on the island. How are you supposed to choose? Don't worry! We travelled to Koh Tao and visited some of the best local spots and dive schools!
Although there are so many dive shops on the island, in this article, we have summarised just four of our favourites, to display the vast range of places and opportunities in this top diving location.
Whether you are PADI or SSI, looking for a relaxing beachfront dive school or an upbeat social spot to make new dive friends, we've got you covered! This article explains the best attributes of each dive school we have selected and why we think they're worthy of being in the top four!
So what are we waiting for? Let's dive into the best Scuba Diving Schools in Koh Tao! (In no particular order;) )
Big Blue Diving
One of the best Scuba Diving Schools on Koh Tao is Big Blue Diving, located on Sairee Beach.
Big Blue Diving was the second dive school to open on Koh Tao, operating for over 32 years! During this time, Big Blue has developed incredible divemaster and instructor teams, guiding and teaching in an enjoyable, safe environment!
The expert customer service starts at reception, with the welcoming smile of Steven and his Island-famous pooch, "The Professor". Steven will help you with your paperwork, chat about the diving schedule and remove any nerves or pressures you may have (until you go diving, of course!)
One of the instructors here said the best thing about working at Big Blue is that "the team is truly like a big family, and once you're family, you're always family!"
SSI courses are available from Try Scuba through to the Instructor level! Have you ever wondered how to become a dive instructor?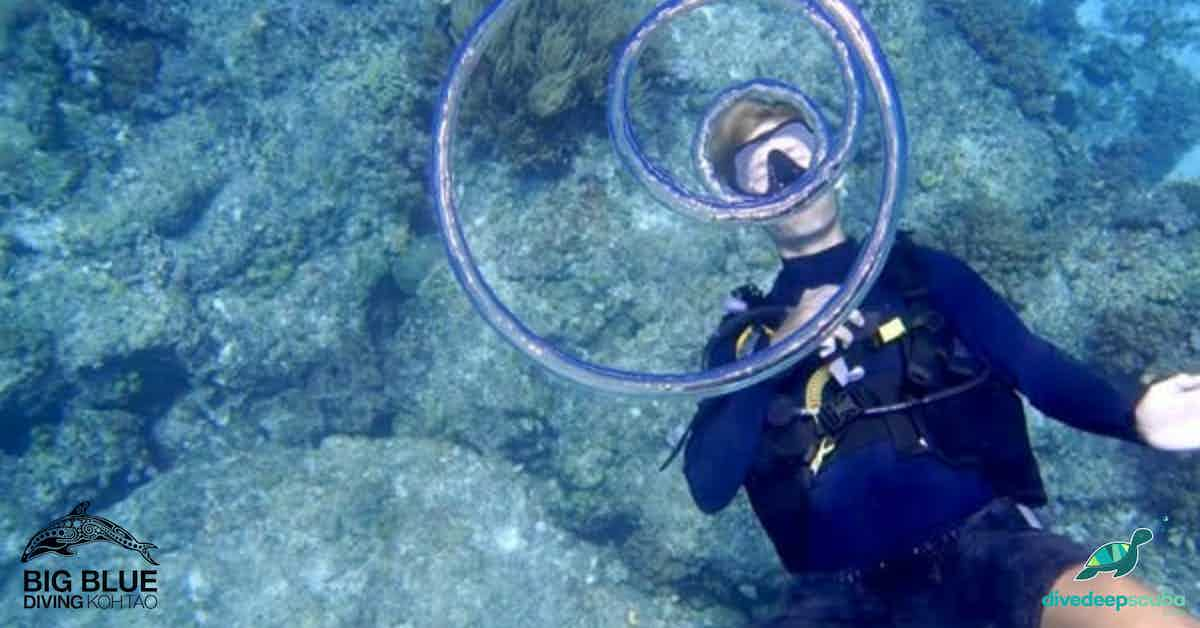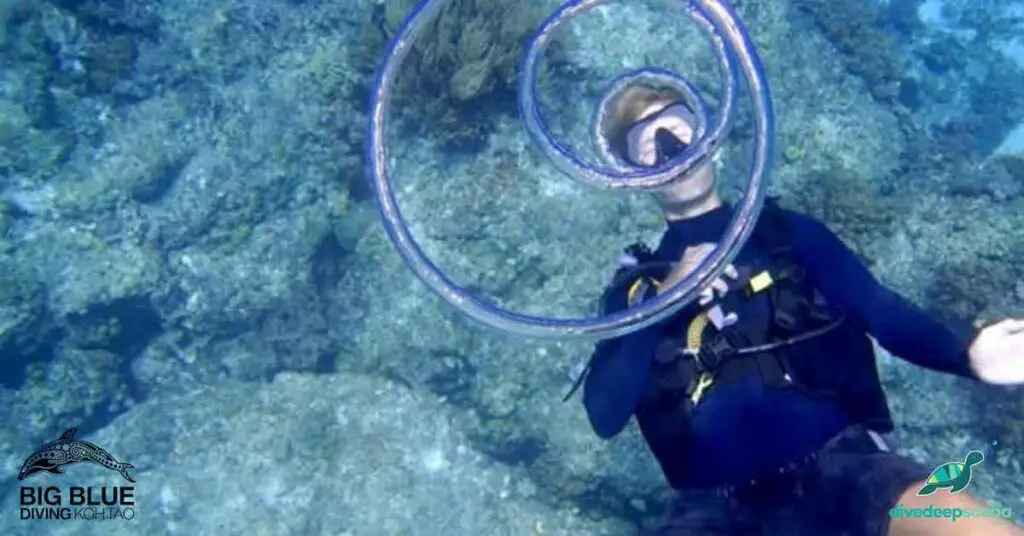 One thing we loved about Big Blue is how enjoyable the fun diving is! Hop onto the diving boat "Enzo" and prepare for some awesome diving! We met Sam, a friendly full-time divemaster who gives entertaining dive briefings and can show you all the best spots and cool marine life!
Another reason why we love Big Blue is its location!
Not only located within the heart of Sairee's shopping, delicious food destinations and nightlife, but Big Blue is also just a short stroll to the beach, where you jump onto a long tail which takes you directly to Enzo!
This is a more favourable way to get to the diving boat, which differs from the busy pier and queue of boats!
We met Jim, the kind and welcoming owner of Big Blue, and asked him what he thinks Big Blue is best for. Jim is very proud of the dive school's exceptional team and training standards but gave us two things in particular.
Jim told us how Big Blue is one of the only dive schools on the island that performs try diving in the pool, before going into the sea. The skills required to be performed, such as mask clearing, can be practised in the pool beforehand, making students "feel more relaxed in the sea, knowing what they're doing".
Not only does this create a more calm, relaxed and safe environment, but this also ensures that the open water dive is much more enjoyable for the student.
Another impressive attribute of Big Blue is Big Blue Tech.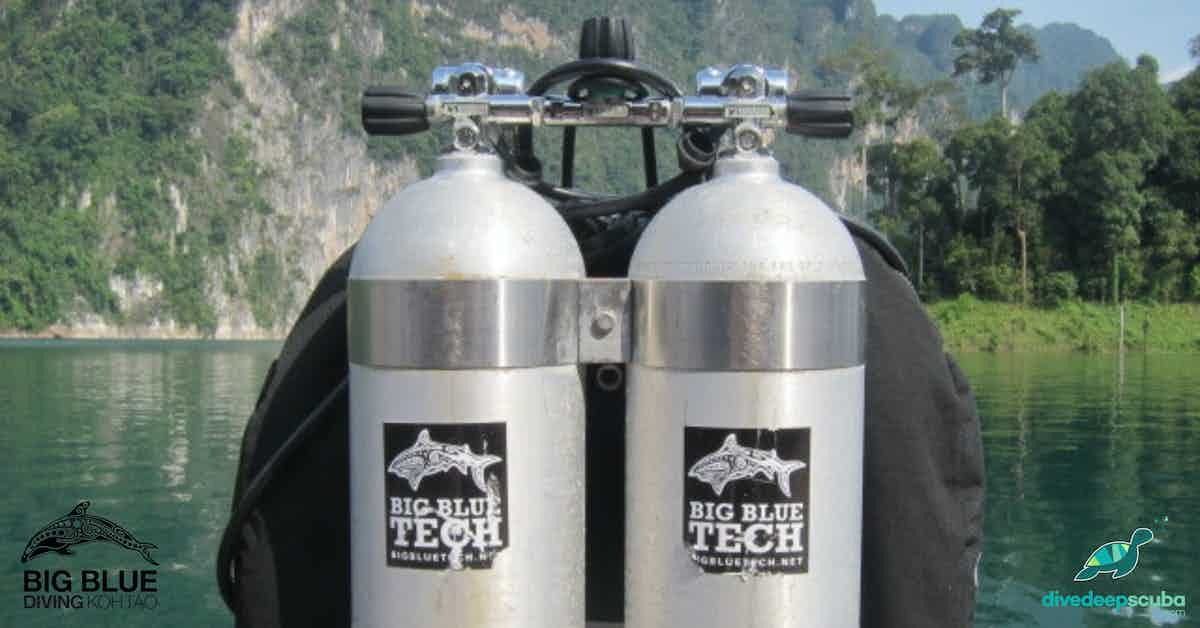 "No one compares to Big Blue Tech in the country" – Jim, the owner of Big Blue.
Big Blue Tech has its own special dive boat, and offers many courses, from Advanced NITROX and side mount to Technical wreck diving and CCR Diving.
Pretty impressive, right?
As part of the Divemaster programme, trainees at Big Blue have the option to experience an "introduction to tech diving", where they experience diving with Tech wing BCDs, Sidemount and even driving DPVs!
We had the opportunity to join a group of Divemaster trainees on the Tech boat and film their first experiences with DPVs! It was a very fun afternoon!
Not only were Big Blue the second dive centre on the island, but they were also the second conservation company on Koh Tao, after New Heaven.
A Marine Conservation programme at ISS teaches students on Koh Samui, increasing their knowledge and awareness of the negative environmental impacts of economic growth and land development.
Conservationists from Big Blue joined this movement, with the goal to improve the environmental awareness of Scuba divers!
This contributes to global protection and research of monitoring reef systems and marine life, such as whale sharks and turtles.
After a fun-packed day of diving, you can find the Big Blue staff relaxing and hanging out with their divers at the nearby beachfront bar "The Smoking Dead". This is the perfect place to sip a cold beer or maybe a mango daiquiri while watching the sun go down.
Doesn't this sound delightful?
So, Big Blue are a pretty awesome dive school. Which one is up next?
Crystal Dive
Crystal Dive is one of the largest PADI dive shops on Koh Tao, located in Mae Haad.
Crystal Dive is an award-winning PADI 5-star development centre, with courses available from Discover Scuba Diving through to the PADI Instructor development course.
Celebrating its 25th Anniversary, Crystal was one of the first dive shops on Koh Tao!
We also loved the location of Crystal Dive, which is just a short walk from the pier! Once you have arrived at Koh Tao at the Mae Haad Pier, there is nothing better than being so close to your final destination!
Another great thing about Crystal's location is that they practically have their own section of the pier!
After a gentle stroll across the beach, you can walk directly onto the main diving boat from the pier and start getting ready for your awesome day of diving!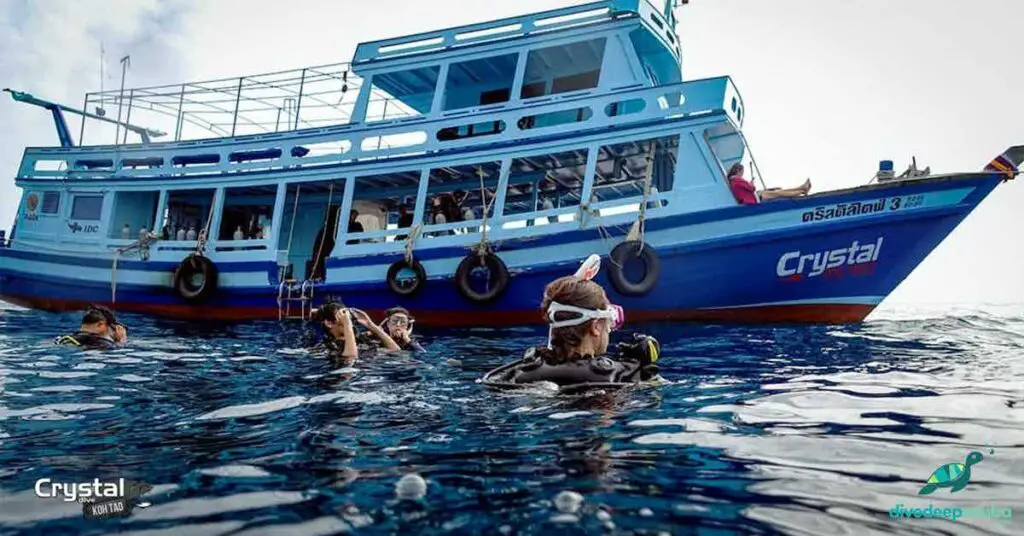 We met with Nina, the lovely operations manager at Crystal, who discussed why Crystal is such a great dive school.
Nina has worked at Crystal for ten years, having roles in the retail shop, as a divemaster, instructor, and now the operations manager! Nina has done it all! For Nina, Crystal is her home, with friends who are like family and a beachfront office which she loves!
Divemasters and Instructors at Crystal are such a great family; they work as one big team! This creates a relaxed and fun environment that is perfect for learning and enjoying scuba diving!
After a great day of diving, divers can hang out with their teachers and divemasters at their beachfront bar! (I won't tell you how many beers I've had there!)
We asked Nina what she thinks Crystal is best for, to which she replied, "the professional training programmes. One thing that makes Crystal so unique is that we believe so much in our high-quality training of Divemasters and Instructors that we only hire in-house."
If you choose to dive with Crystal, you know you are in a well-trained professional's hands!
Not only this, but if you decide to do a certification course with Crystal Dive, you will be offered free accommodation for the length of your course! It's perfect to be close to the dive shop during your course.
Imagine waking up, enjoying your morning coffee, and you're only a stone's throw away from your Scuba class! (and the beach!)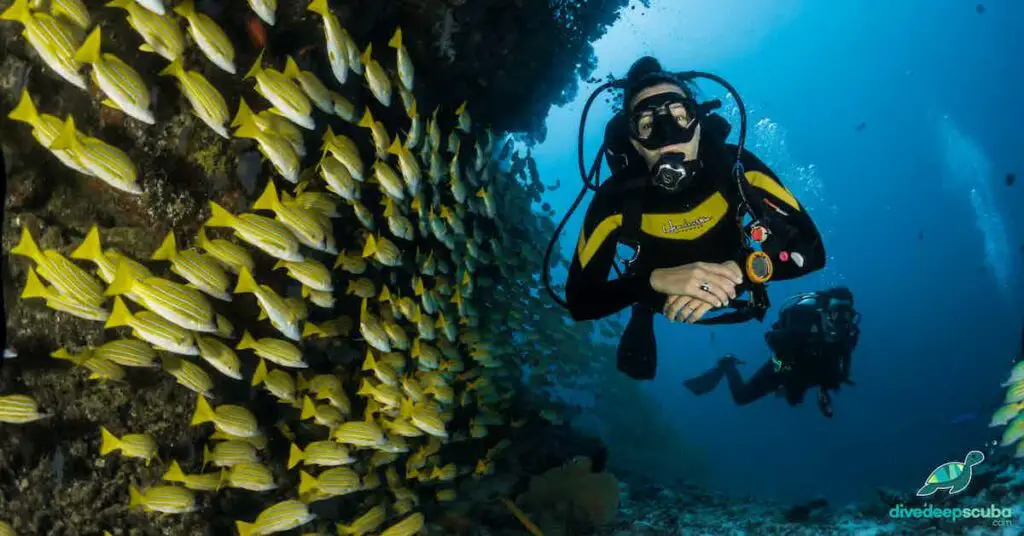 Crystal has two pools, two Big dive boats and one of the most impressive kit rooms we have ever seen!
If you are into Marine Conservation, you'll be happy to hear that Crystal Dive is partnered with the Coral Tribe, which conducts marine conservation courses with the aim to prevent damage and promote the restoration of coral reefs.
Conservation is at the heart of Crystal.
Every Thursday, there is a dive against debris and beach clean-up! Divemasters must also gain eco points throughout their programme, which helps train diving professionals to care for our environment!
Crystal sound amazing, right? Follow them on Instagram!
So who's up next?
Simple Life Divers
Simple Life Divers is an award-winning PADI 5* Dive resort located on Sairee beach.
Operating since 2003, Simple Life is one of the longest-running dive schools in Koh Tao. A little fun fact: When they first existed, this dive school was a bar restaurant with only a few rustic beach bungalows.
Now, they are a 5* Dive resort, with beautiful bungalows overlooking the ocean, which follow steps down to the beachfront training pool.
We met the bubbly and friendly social media manager of Simple Life, who showed us around!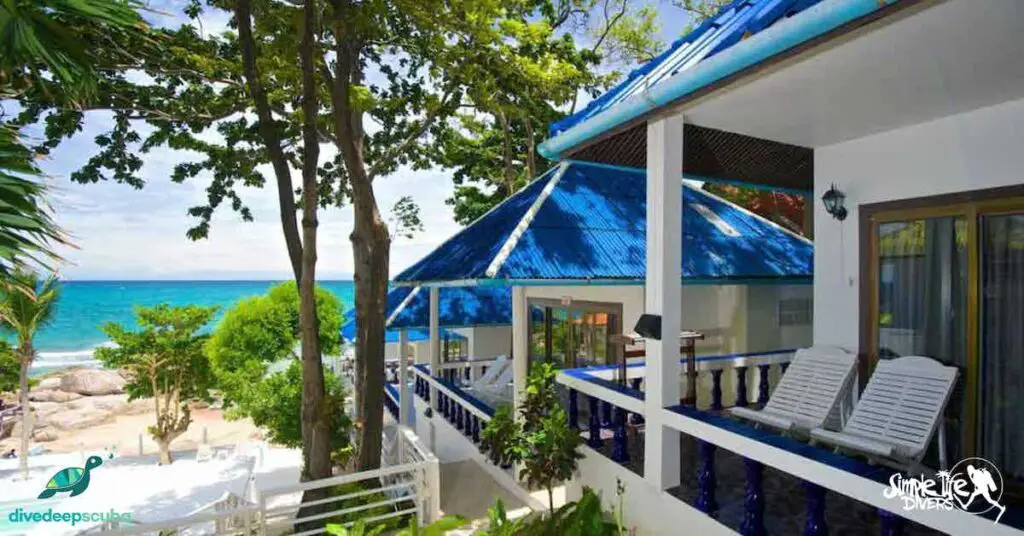 One thing we loved about Simple Life is the location. If you choose to stay here, you could be waking up to the sound and smell of the ocean. With a few steps down from your bungalow, you're ready for your pool session overlooking the beach!
After a morning in the pool, you start preparing for your ocean dives! Step down from the poolside onto the beach, where the long tail awaits you to the big diving boat!
Another thing we really love about Simple life is their dive packages on offer!
Simple Life Divers offer a month explorer dive internship, where you can move from PADI Open Water to PADI EFR and Rescue!
With the Explorer package, all the Scuba Gear is included, one month of accommodation and even fun dives between training dives to fine-tune the skills you have learnt in class!
This is the perfect way to train and become an expert diver, logging over 50 dives!
Through exploring Simple Life Divers, we met Jake, who recently ended his one-month internship!
After asking Jake why he chose Simple Life Divers, he explained how he was looking for the perfect internship to move through PADI courses to Rescue Diver, complete specialities and have accommodation included.
Jake's favourite part about completing the explorer package was "being integrated into the diving community, waking up for the morning boat with everyone and chatting afterwards about all the awesome things they saw!"
During his one month on Koh Tao, Jake swam with a Whaleshark, which was one of his favourite moments!
Can you imagine escaping to the tropics and working as a dive instructor?
If you are looking to become a dive professional, Simple Life Divers also offer the PADI Dive Instructor Internship, moving from the Open Water Course through to Instructor Training! This is the perfect way to go from "Zero to Hero" in just seven months!
This internship also includes seven months of accommodation, all PADI materials and Scuba Equipment Rental! Could it get any better?
Follow Simple Life Divers on Instagram to see their awesome photos and videos!
Another cool Koh Tao dive school!
Which one is up next? Last but not least…
Phoenix Divers
Phoenix Divers is a beachfront 5-Star SSI International Dive Center, located on Sairee beach.
If you're looking for an upbeat, fun and vibrant dive school, Phoenix Divers is definitely for you!
As soon as you enter this colourful dive school, you are greeted by the incredibly welcoming dive staff, who are prepared to answer all your questions!
We met with James, the lovely manager at Phoenix, who told us all the great things about this SSI dive school.
One thing we noticed is Phoneix has great prices! James explained that as this shop is mainly Thai owned, they own all their land and, therefore, can offer courses cheaper than most other dive shops, especially on Sairee beach!
Lower prices make diving a lot more accessible for backpackers, which is great! We love to see more and more people enjoying our favourite sport!
Lower prices also attract younger customers and create a welcoming social environment to make new diving friends!
After a great day of diving, James likes to announce "Beer O'Clock!"
Although they have a bar next door, Phoenix is fortunate to have its balcony on the beach edge. This is the perfect place for everyone to bring their own beer, listen to their own music and hang out with new diving buddies while watching the sun go down!
Sounds perfect, right?
Another great thing about Phoenix is that the hostel dorm and private rooms are included with all recreational courses! But this gets even better because they do not advertise this accommodation outside the dive school!
This means that when the island gets super busy, and accommodation is a little scarce, Phoenix divers will always have room for their students! Get in!
It's nice to hear about lower prices which can make diving more accessible for everyone, but what we really loved is hearing that Phoenix ensure that even with lower prices, the quality of training remains high. (Way higher than the minimum requirements!)
When asked what Phoenix is best for, James believes it's all recreational courses! Teaching higher than the minimum requirements, Phoenix ensure their customers are competent, safe and happy divers!
The training at Phoenix and their course director Rory are so highly regarded within the SSI community, that people are recommended here for their Divemaster and Instructor Trainer programmes.
Phoenix aim to ensure that all their Divemasters and Instructors are taught so well that they would be ready and confident enough to start work the next day! (If that is what they wish to do, of course!)
Does this fun diving, beer on the beach and sunset watching sound perfect to you? Follow Phoenix on Instagram to see more!
Don't Forget Your Dive Insurance!
Before you go out on any dive trip or holiday, it is essential to make sure you have insurance that covers you if something goes wrong. Check out our dive insurance article for more information.
Or go straight to these dive insurance company websites:
If you liked this article, please follow us on Instagram, Twitter and like our Facebook page
Final Thoughts
There are many dive schools on the island to cater for such a high demand for Scuba diving on beautiful Koh Tao! We have explained why the four dive schools mentioned deserve to be in the top four!
If you want to learn how to Scuba dive, why not try one of these dive schools and learn in paradise? Happy diving!
Please share this article using the social media buttons!