| | | | |
| --- | --- | --- | --- |
| Dive Site | Best For | Diver Level | Highlights |
| Sail Rock | Schools of fish | All Levels | The Chimney |
| Chumphon Pinnacle | Barracuda and Whalesharks | AOW | Barracuda rock |
| South West Pinnacle | Large schools of fish | All Levels | Secret Pinnacle |
| White Rock | Coral Gardens and Variety | Beginner | Coral Patch |
| Twin Pinnacles | Introduction to diving, blue spotted stingrays | Beginner | Variety |
| Red Rock | Corals and Reef Fish | Intermediate | Nangyuan Cave |
| Hin Pee Wee | Introduction to diving | All levels | Wreck |
Table of 7 awesome dive sites on Koh Tao.
Scuba diving on Koh Tao is extremely popular. Not only for its excellent conditions and perfect learning environment but also for its marine life and various dive sites. It is important to start this article by saying there are many fantastic dive sites on Koh Tao…over 27, to be a little more exact!
If you are planning a dive trip and are thinking about this beautiful island, you might be a little overwhelmed with how many dive sites there are! With so many and such a vast variety, how can you decide on which ones to visit?
To make this easier for you, we travelled to Koh Tao and dived at many of the most popular dive sites in order to create this article about 7 of the most awesome ones!
So… let's jump right in!
Sail Rock
Sail Rock is incredible for its large groups of fish surrounding the entire pinnacle and an exciting swim-through known as the Chimney.
I have been sitting in a bar while travelling, chatting with new diving friends, and when Koh Tao was noted as a place I must visit, Sail Rock was always mentioned.
Of all the dive sites on this small piece of paradise, Sail Rock is by far the best!
Although this dive site takes an hour and a half to reach by dive boat, it has so much to offer that most dive schools will make the trip. Of course, trips to sail rock happen a little less often, especially since COVID-19, but they are becoming more and more frequent as high season approaches.
Sail Rock is a huge rock pinnacle that rises from the sea bed and even protrudes from the surface of the water. On a clear day, you can have a coffee from a viewpoint in the South-East of Koh Tao and see Sail Rock as a tiny little dot in the ocean far in the distance.
As Sail Rock is so far from the shore, there are huge schools of fish everywhere. I mean, everywhere!
Things to see at this dive site include Giant Groupers, Trevally, Barracuda, and even a Whaleshark if you are lucky!
A highlight of this dive site is 'the Chimney.' This consists of two openings, one at 20m, which connects to another at 5m. Divers often enter at 20m and slowly ascend within the Chimney to 5m for their safety stop.
Chumphon Pinnacle
Chumphon Pinnacle is one of the most popular dive sites on Koh Tao due to its large groups of fish, the whole pinnacle covered in anemones, and Barracuda rock.
We asked an instructor at Big Blue what her perfect day on Koh Tao would look like, to which she said-
"Chumphon Pinnacle in the morning, coming back, having the entire afternoon off, going to the beach, and having sunset drinks."
That sounds like the perfect day to me!
Diving here on Koh Tao is beautiful, and this dive site is definitely one of the best. So what's so great about Chumphon Pinnacle?
Well, let me tell you!
Chumphon is a huge Pinnacle, starting at 30m and rising up to about 14m; this dive site stretches over 50m long from North to South.
This pinnacle is covered with anemones, housing numerous families of curious clownfish who come out of their homes to investigate you!
Swimming between the rocks, you can see huge Giant Groupers, Lionfish, Scorpionfish, and one of my personal favourites; longtail bannerfish.
If you peep into the holes within the rocks, you will likely find a moray eel poking its head out with its mouth wide open.
Did you know moray eels need to constantly open and close their mouths to pump water over their gills? This is how they breathe!
There's so much going on at this dive site, one of the highlights being the enormous schools of fish. Passing over the top of the pinnacle, you can swim through ginormous clouds of fish, which immediately scatter in all directions.
Everything about this dive site is mesmerizing, but as captivating as this all is, do not forget to look out into the blue! By doing so, you can catch a glance at Great Barracuda swimming past.
Swimming out into the blue, you can find schools of Barracuda swimming around in circles, creating a tornado effect! They do this to confuse any nearby predators, making it more difficult for them to single one of them out.
Check out the video below of a School of Chevron Barracuda at Chumphon Pinnacle first thing in the morning!
South West of the main pinnacle, you can find barracuda rock. It is definitely worth swimming over to this section of the dive site, especially if you are into macro, such as nudibranchs.
If you visit within the season (or if you're fortunate), Chumphon Pinnacle is the place to see Whalesharks!
So Chumphon sounds pretty incredible, but what else does Koh Tao have to offer?
Let's dive into the following dive site.
South West Pinnacle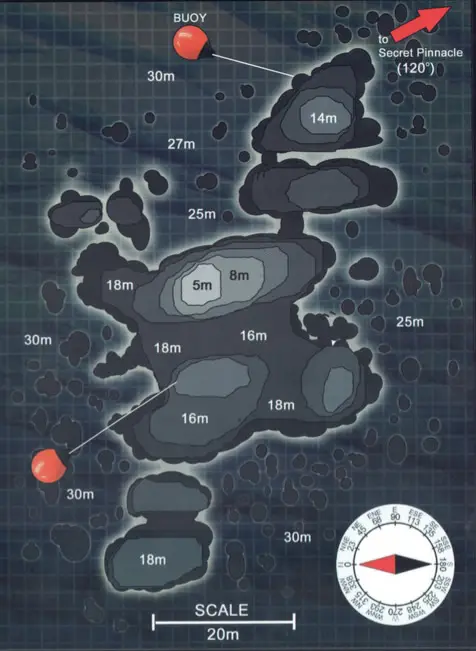 This is another deep dive site famous for its huge schools of fish, variety of marine life, and secret pinnacle.
South West Pinnacle, yep, you guessed it, is located in the South West of Koh Tao, 10km away from the island.
We asked a Divemaster at Phoenix to name their favourite dive site, to which they replied
"South West because of the large schools of fish, and it is usually less busy than Chumphon."
Ranging from 5m-30m, this dive site is perfect for all diving levels and experiences.
Exploring this dive site, you are bound to find some Giant groupers, Great Barracuda, Strapweed filefish, Whale sharks, and Bryde's whales (if you are very lucky!).
Floating in the blue between rock formations, divers can become fully engulfed within schools of fish.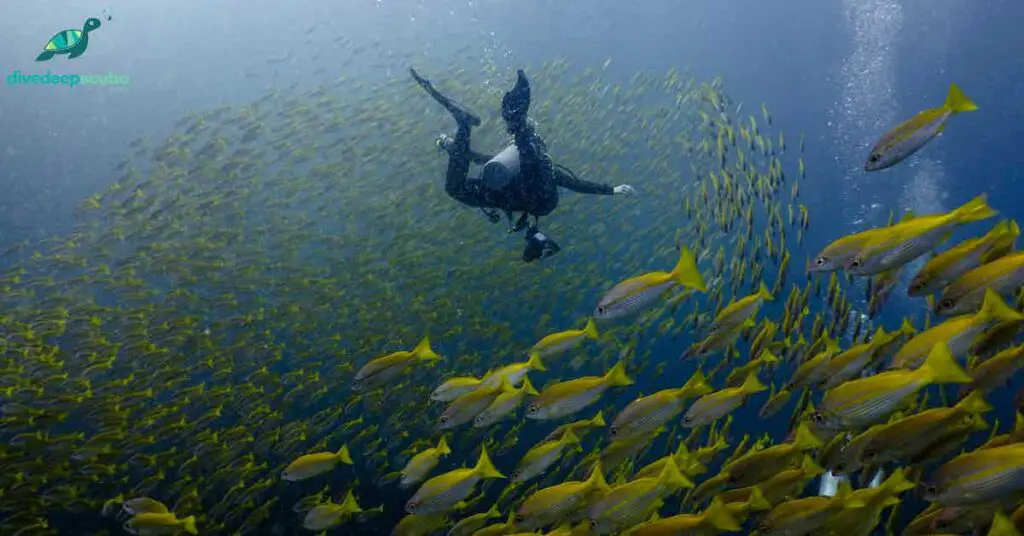 It is highly recommended to swim over to the Secret Pinnacle, which is incredible! Divers can set their compass to 120 degrees, and you will be sure to find the secret pinnacle. (while constantly aware of any current, of course.)
Like the other dive sites here on Koh Tao, the pinnacles are beautiful and bustling with marine life. But never forget to look out and up into the blue; you never know what you might find.
Check out the video below to see the magic!
White Rock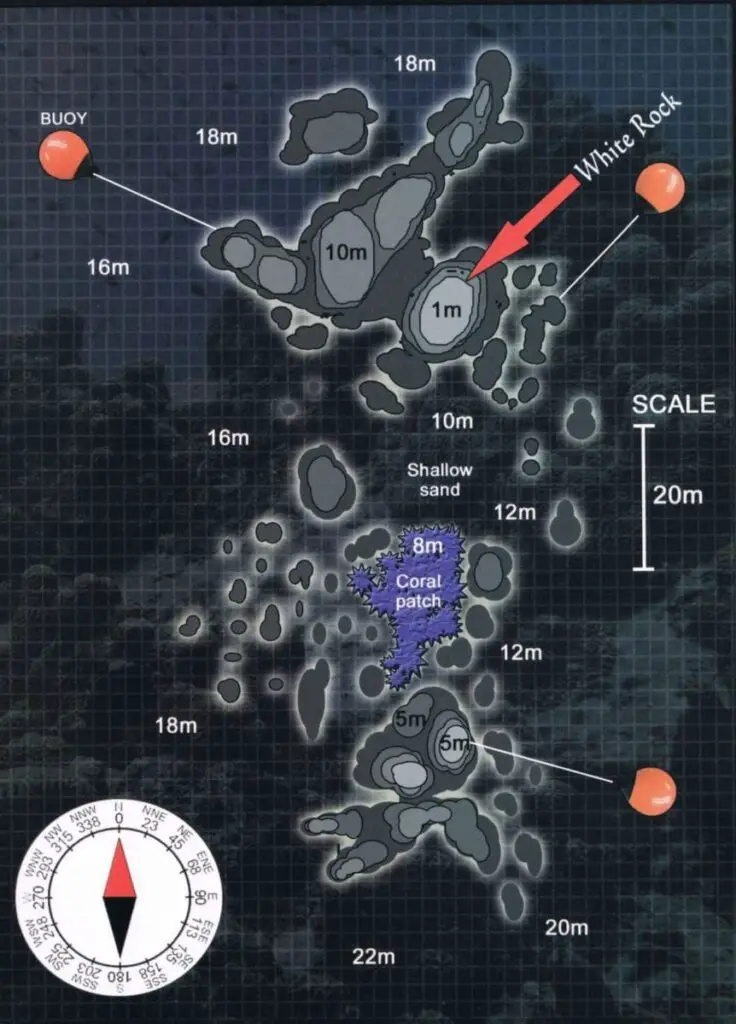 White Rock is very frequently visited, as it is a great dive site for beginners. It is popular for its variety of marine life, beautiful colours, and the coral patch.
This is another beautiful dive site here on Koh Tao and is actually one of the largest. It is therefore recommended to visit this dive site more than once, as there are many places to explore.
These two large rock formations house a huge variety of marine life! You can see Titan Triggerfish, Turtles, Moray Eels, Boxfish, and Blue spotted stingrays!
Yellow Box Fish, one of the cutest fish, can be found more often at White Rock. Their lips are constantly stuck out and have the shape of a little trumpet. With a fin on both sites, top, and bottom, they constantly flap around and can turn very fast!
Check out the video below of one of White Rock's resident Yellow Box Fish!
This dive site is relatively shallow, and with so much to offer, it is an excellent introduction to diving!
My personal favorite part of White Rock is the coral patch in the middle. Sitting at 8m, these corals and reef fish are illuminated and glistening in the sunshine.
There is something so special about hovering over a bustling coral reef in neutral buoyancy and taking in the beautiful sights. However, before doing so, check out our top tips for diving in Coral Reefs to prevent damaging the ecosystem!
When diving at White Rock, make sure you peep under the boulders, as this is where the Blue-spotted stingrays like to hide!
This dive site is incredible; let's see what's up next.
Twins
Twins is a popular beginners' site, with interesting rock formations and a huge variety of marine life to be found within!
Ranging from 5m-18m, the layout of this dive site has a clue in the name! Twins consist of two main twin rock formations, surrounded by smaller ones.
The calm shallow waters of twins make this dive site the perfect place for beginners, with plenty of marine life to see! At this dive site, there is a lot on offer!
Here, you can find Pufferfish, Saddleback anemonefish, Gobys, Bluespotted Stingrays, Moray eels, and even Yellow Boxfish (so cute!).
The video below shows the beautiful colours and just some of the marine life you can find at Twins!
The list just keeps going!
Red Rock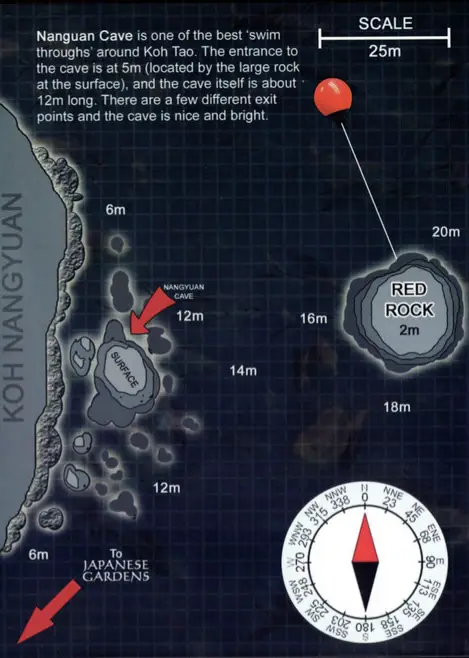 Red Rock is most famous for Nangyuan Cave, which is the best swim-through on Koh Tao.
The usual suspects can be found at this dive site, such as Titan Triggerfish, Bannerfish, Porcupine Pufferfish, and Turtles!
Depending on your dive plan, you might glide along parallel to the shoreline, where large coral formations create a beautiful landscape bustling with reef fish! After swimming for a very short while, you will arrive at Nangyuan Cave.
This cave is by far the best swim-through on Koh Tao. A few of the other dive sites have swim-throughs, but this cave is the largest, longest, and most beautiful! It is about 12m long, with different exit points!
As you enter the swim-through, the floor is covered with Nudibranches. After turning the corner into the cave, the inside is illuminated by a higher section with openings between rocks. As this cave consists mainly of rocks, the amazing visibility makes the inside of the cave crystal clear.
Continuing through, another opening above allows sunlight to guide you to the next section. At this point, you can see the exit, swimming towards the bright blue turquoise waters of the open ocean.
Red Rock is a great dive site, as it offers both shallow and deep sections, making it a perfect dive site for both beginner and advanced divers.
All these dive sites have sounded pretty cool so far, right? Let's move on to our last but not least…
Hin Pee Wee
Hin Pee Wee is a great training site, popular with both beginner and more experienced divers. Close to the Pinnacle, there is a wreck that (depending on your certifications) can be explored externally and internally.
This dive site is mainly one large rock formation, with smaller ones dotted around it. Ranging from 7m-28m, this dive site it mostly explored around 14m, completing the safety stop just above the top of the pinnacle.
Lots of marine life can be found here, such as Angelfish, Bannerfish, Barracuda, and Porcupine pufferfish. It was at Hin Pee Wee that I saw the largest Giant Barracuda I have ever seen!
The Wreck is a very popular addition to this dive site, which mainly advanced divers go to see as it sits around 20m. Once completing your Wreck penetration, you can explore the inside of this wreck.
Have you ever explored a wreck before? It's so cool!
Don't Forget Your Dive Insurance!
Before you go out on any dive trip or holiday, it is essential to make sure you have insurance that covers you if something goes wrong. Check out our dive insurance article for more information.
Or go straight to these dive insurance company websites:
If you liked this article, please follow us on Instagram, Twitter and like our Facebook page
Final Thoughts
Scuba diving on Koh Tao is extremely popular for beginner-friendly conditions, variety, and incredible marine life.
The deep and slightly further dive sites on Koh Tao, such as Sail Rock, Chumphon Pinnacle, and South West Pinnacle, have enormous schools of fish. The closer and shallower dive sites have beautiful coral formations, reef fish, and stingrays!
Of course, we have not mentioned all of the dive sites, just the top 7. Which one do you think you would enjoy the most? Maybe you should go check them out!
Please share this article using the social media buttons!