Scuba Diving on Gili Trawangan (The Complete Guide)
| Dive Shop | Best For | Governing body |
| --- | --- | --- |
| Trawangan Dive | Conservation & Technical Diving. PADI IDC Profesional Courses | PADI + TDI |
| Manta Dive | Entry-Level Divers | SSI + TDI |
| Gili Divers | Solo & Social Travellers  | SSI |
| Blue Marlin Dive | IDC Professional Courses and the Monday night party! | PADI + JJ Rebreather + TDI |
The Best Dive Centres on Gili Trawangan
Maybe you've heard about the little scuba mecca that is Gili Trawangan, Indonesia? When you're ready to take the plunge but realise there are just too many options! What do you do?
Don't worry, we went to Gili T (as it is affectionately known) and tried out the best local spots and dive schools!
Looking to freedive on Gili Trawangan?
In this post, we've summarised our personal faves to help cater for your unique diving experience in one of Indonesia's top diving locations.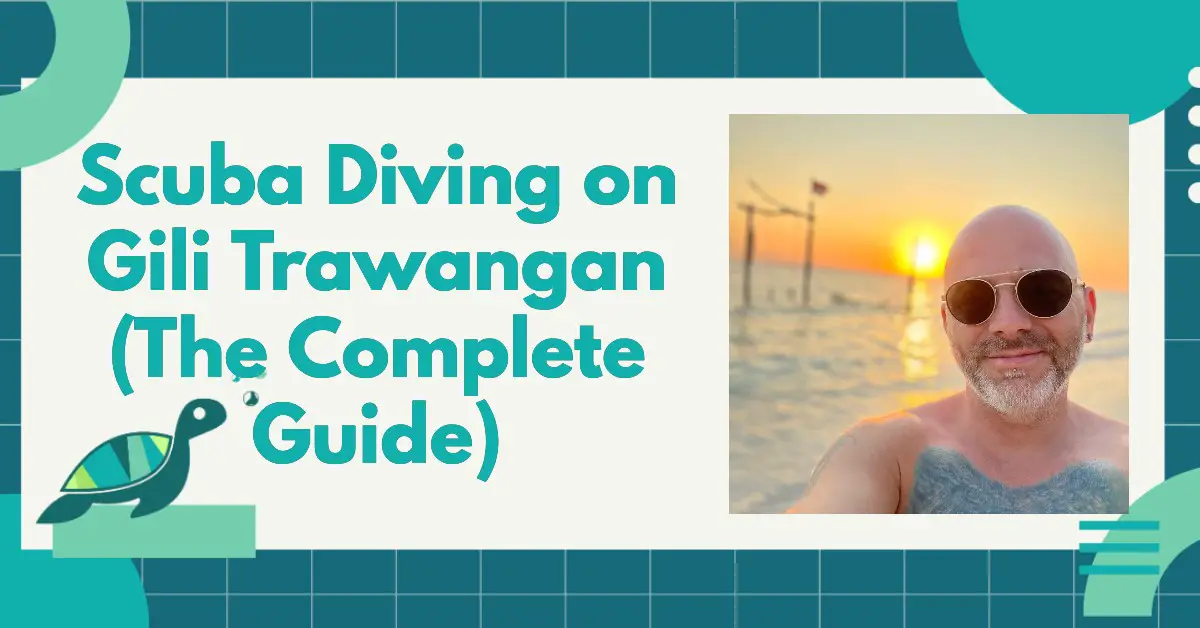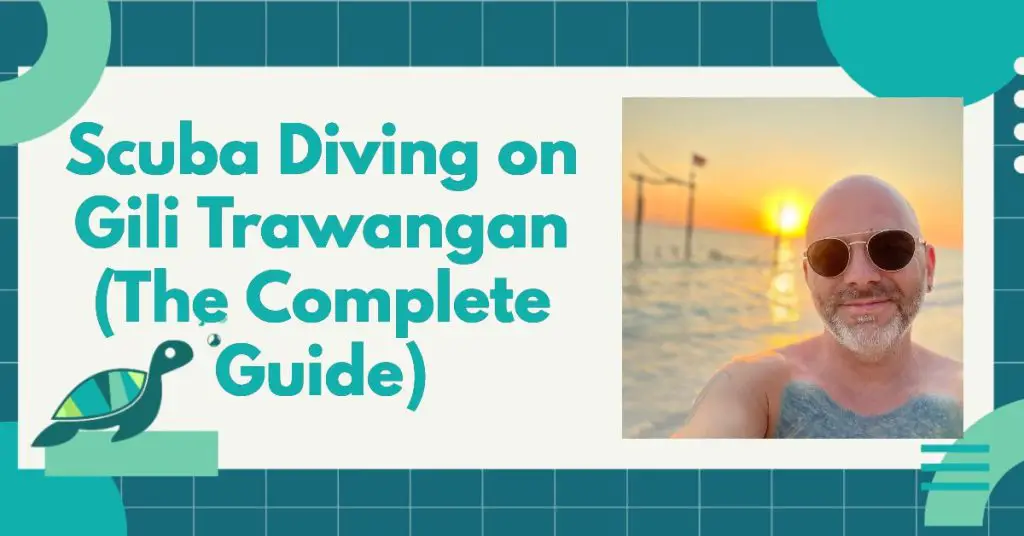 Whether you've been certified PADI or SSI, feel like an upbeat social dive boat or a relaxing beer on the beach post-dive, we've covered the best shops and their best attributes.
Our first highlight is that Gili Trawangan is a unique dive destination of where you don't need to hunt for the best bargain and cheap price.
Luckily the reputable dive centres on Gili T have created the Gili Island Dive Association (GIDA) which has capped all prices and has strict safety standards.
This saves you time haggling for the bargain dive of the century, leaving you to decide which resort will give you the very best underwater experience catered to your perfect trip. 
Ok, let's dive into the best scuba resorts and schools on Gili T
Dive Centre #1 Trawangan Dive

Possibly the biggest and most popular PADI dive centre on the Gilis is Trawangan Dive Centre (TDC). 
With their 2 beachside training pools (not forgetting their swim-up pool bar, but that's a recommended post-dive activity!) TDC offer one of the best dive training experiences for those who have never taken the plunge to breathe underwater before.
The expert care starts in the reception where you're in the safe hands of Mama Kerri making everything from signing up to diving in zero pressure (on the surface anyway!) 
Following high safety and enjoyment standards, the groups on the Discover Scuba Dive experience are limited to 4 students, which means you get an even better chance of spotting a turtle on your very first dive!
A discovery SCUBA experience can be completed in just half a day.
Trawangan Dive Centre is also PADI 5* CDC (Career Development Centre) resort, so when you've finished the fun discovery dive and want to learn how to become a full-time mermaid similar to the energetic dive instructors and guides at TDC, you'll best speak to Course Director Kazi.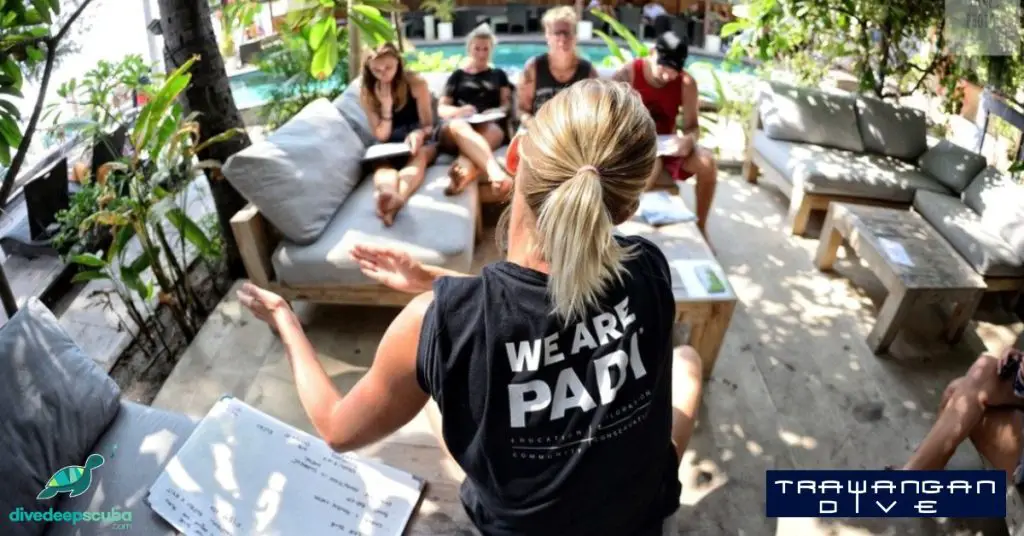 Along with introductory dive training, Trawangan Dive has also been the leading coral conservation dive centre since 2010. 
Running Coral Restoration courses 8 times a year, this 2-week intensive course is paramount for any budding marine conservationist or self-proclaimed eco-diver.
Whether you've fallen in love with David Attenborough's documentaries over lockdown or are off to study marine biology, this hands-on underwater workshop is a fantastic first step away from recreational diving towards becoming an active marine conservationist. 
However, if you are just looking to give back to the ocean in one or two days, you can join the Coral Propagation course and learn how to plant your very own corals in the nursery situated meters in front of the dive shop on the house reef using Ocean Quest Global methods.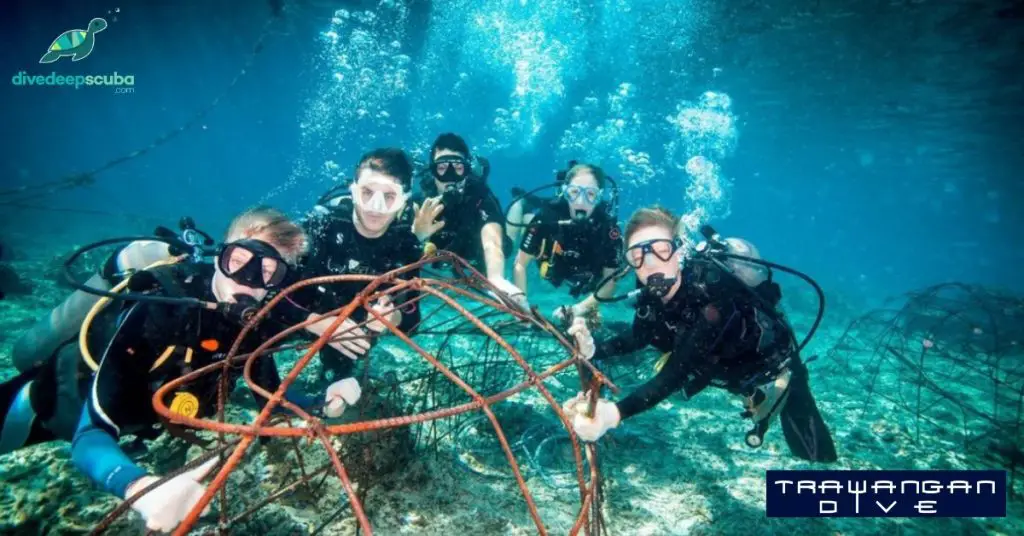 On top of this, Trawangan Dive have been taking their diving even deeper.
Hundreds of meters deeper!
Technical instructor Sam told us about some of the deeper dive sites he's discovered whilst teaching and training on JJ CCR rebreather units.
Sound interesting?
He also runs Introduction to Tech courses regularly to really get the feel of an ocean astronaut.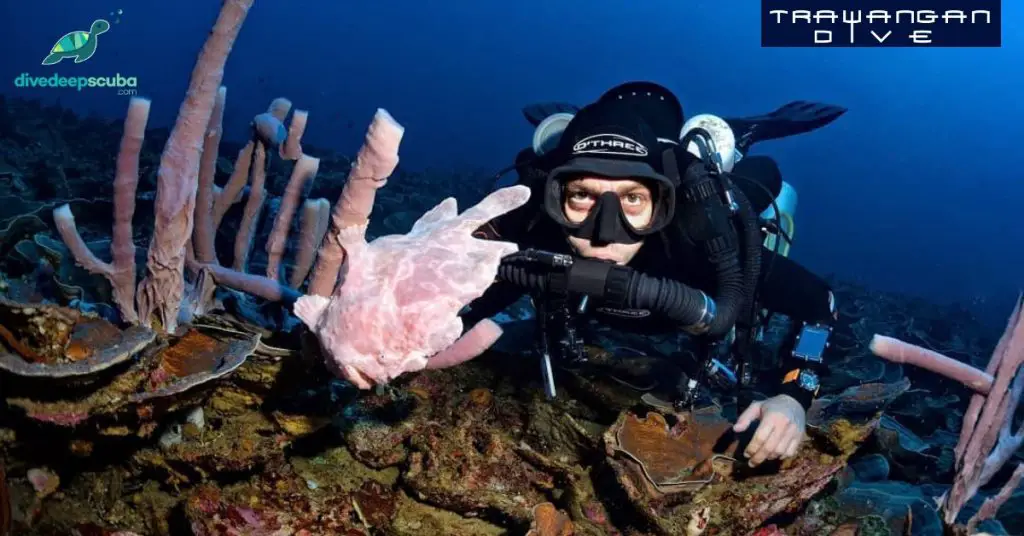 Eat, sleep, dive, repeat is the mantra here. Made easy with newly renovated rooms alongside a new 35meter-long pool finished in 2021, it's around 20 steps away from the dive shop and their infamous breakfast buffet. 
Rooms on site suit almost any budget, from the new poolside deluxe bungalows to budget and economy rooms (still with balconies, terraces and gated gardens!) making the little post-dive luxuries comfortable and affordable.
Most of the rooms come with a day bed (as large as a real bed!) making the rooms perfect for couples, or groups of 3 friends travelling together.
Did we say Trawangan Dive was family-friendly?
There is a gorgeous 2-bedroom apartment making it easy to keep an eye on the kids, a great mini-person menu and a young playmate, the owners' son (the BIG boss) Archie, happy to share his bike and beach toys with new friends.
The on-site restaurant and beach club Fat Cats Bar and Restaurant is quite possibly the best beachside eatery on Gili T.
(I spent many evenings sat in their beach bar…probably too many!)
It offers a range of western and Indonesian cuisine, great bar snacks and sharing platters. Eating machine, technical instructor Sam recommends the hearty Spag Bol as a great dinner option, whereas DiveMaster coordinator Roos mentioned the Veggie Sharing Platter and the buffalo chicken wings were the best things to be paired with the happy hour cocktails in the swim-up pool bar (yes, really!).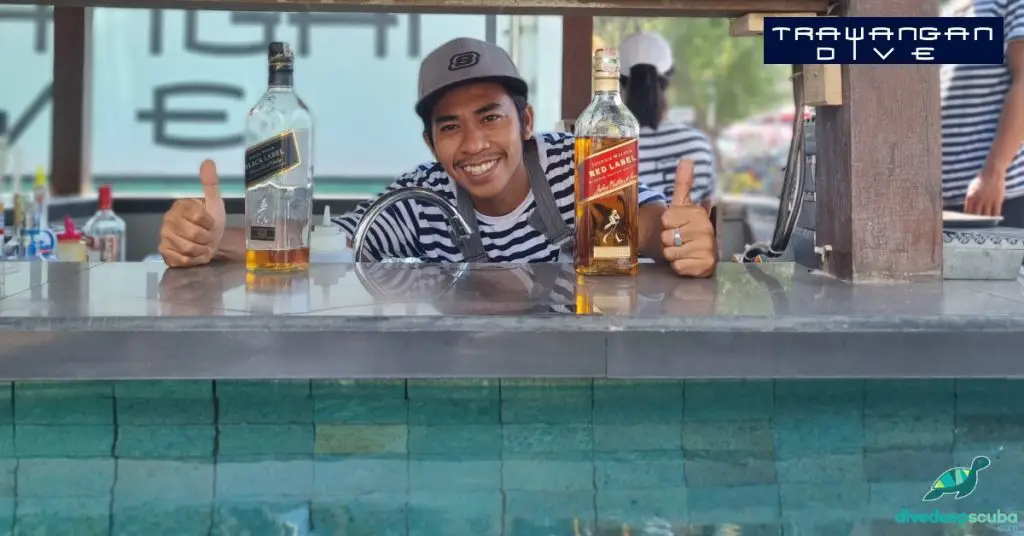 Follow Trawangan Dive on Instagram
Dive Centre #2 Manta Dive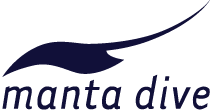 Manta is the largest and most established SSI dive shop on Trawangan, not to mention their sister dive shops in Gili Air and Gili Meno, but that's for another post!
Manta Dive is at the heart of the island's beachfront.
Take one step off the bustling 'main street', full of horse carriages, porters delivering the island's daily supply of beer and a few happy tourists enjoying an ice cream, and you'll be in the most social islander dive bar Chappies along with a beautiful open plan cafe and SCUBA training pool.
There's nothing better than rolling off the 2-hour ferry from Bali and being dropped off directly at your dive shop!
Manta Dive's vibrant and social environment makes it perfect for those backpacking in groups or solo travellers looking to find some fun dive buddies. They hold their dive courses in small groups to offer safety, confidence and familiarity whilst training in the pool and on the dive.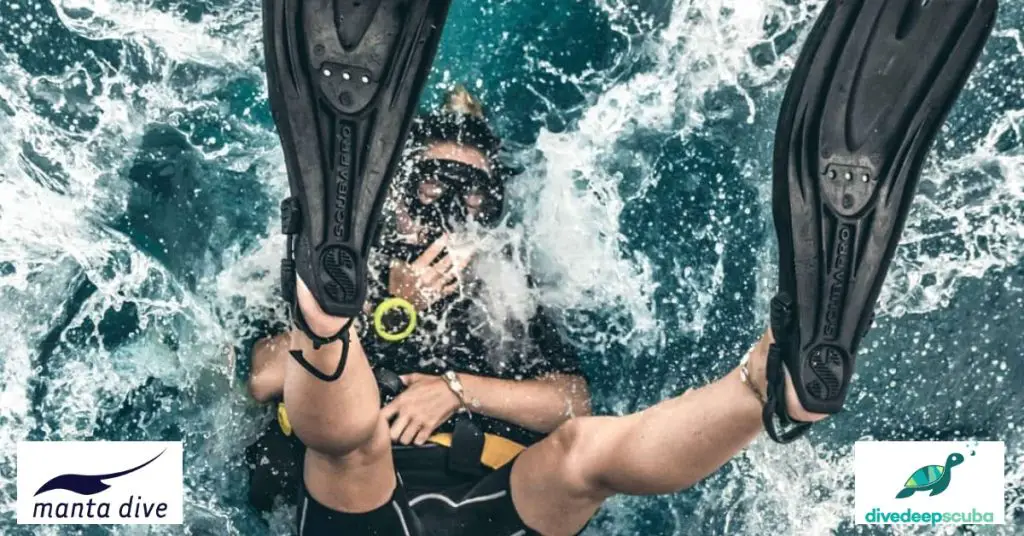 If you decide to do your first level, Open Water Course, you'll probably meet one of the energetic DiveMaster Trainees. They are completing an internship to enter the realm of professional SCUBA.
They are here to assist your every move, from enjoying the theory and 'classroom' time, to training how to become perfectly neutrally buoyant in the pool, to effortless floating beside a turtle in the sea.
Learning to dive is much more fun when you are supervised by a professional instructor and a trainee at the same time.
Instructor Phil has established another cavern of technical diving here in Manta Dive.  One of the highly recommended courses he carries out is the DPV course.
The latest underwater 'big boys toy', the Diver Propulsion Vehicle. 
Allowing you to take flight underwater, cover vast areas of reef and race your dive buddy in a "Need for Speed", underwater edition. This course is suitable for anyone with 25 fun dives or more and an Advanced level of diving and certainly one-of-a-kind experiences!
Sounds good, I hear you say…what about food and accommodation?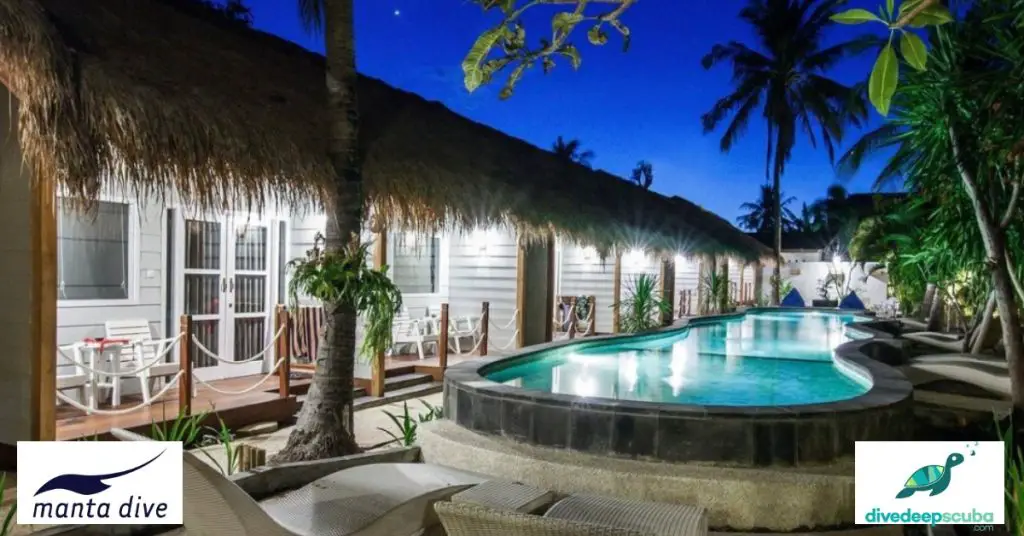 The beachside cafe has a great range of fresh lunch options like baked baguettes, Chinese-style dumplings and jacket potatoes, and hosts enough hangover cures to sort out a headache from the night before.
Post-dive, the beer in Chappie's bar is ice cold and infinite and the brilliant open plan layout of the cafe makes for the perfect people-watching spot whether you are waiting for your dive briefing or sank a few beers too early to make the afternoon dive. 
Here is another fantastic opportunity for a dive and stay package. Manta offers luxury dive bungalows with a beautiful nautical theme, alongside traditional lumbungs with outdoor garden bathrooms. 
Travelling with a group of friends? 
You can stay in one of Manta's fully furnished 2-bed private pool villas that are a mere 3-minute walk from the bustling night market, restaurants and dive centre.
Here at Gili Villas, you can get your breakfast cooked for you with the in-house chef and can spend your days desaturating from the dives in the private plunge pool.
We sat with one of the head instructors Isja at Chappie's bar after her students completed their exams.
What's your favourite site to dive?
"Can I pick two?! Deep Turbo & Shark Point.
I love the topography of Deep Turbo. I like to describe the site as coral mountains with sandy valleys in between. Every dive is different, and there is a chance to spot eagle rays!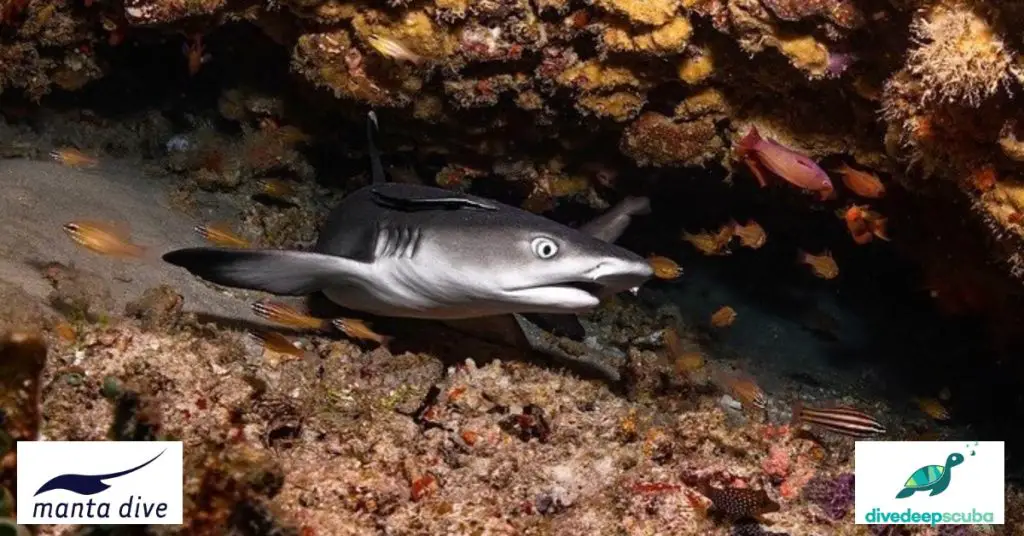 Shark Point is so diverse! In the shallows, there are many turtles, a perfect gentle drift dive for first-time divers. Deep Shark Point is my favourite part though The shipwreck and colourful coral ridges are amazing!"
What's your favourite course to teach?
"Although they are all so fun to teach, I especially love teaching entry-level SSI Open Water courses. Watching people transition from nerves in their first pool session to sheer delight when they spot their first turtle will never get old! "
Favourite dish on the Chappies Menu?
"It would have to be the Chili Cheesy Chips bowl, great any time of the day."
Follow Manta Dive on Instagram
Dive Centre #3 Gili Divers

Gili Divers is a great, homely backpackers dive shop that is one of the leading SSI centres on Gili Trawangan, and the very best part is they have partner dive resorts and camps all across Indonesia! 
Operating since 2010 Gili Divers' eye-catching adventure-style shop stands out with its two dive & stay hostels located one street behind the beach. Gili Divers is famously known as the great meet point for social, solo travellers or those who enjoy (more than one) cheeky beer after their diving day.
At the time of writing, the restaurant and bar are going through a huge revamp so we can't wait to return to see how their new restaurant concept compliments their beachfront location.
Their 3 bright yellow dive boats take little time to get to the best dive sites around the Gili Islands and hold around 30 divers per boat.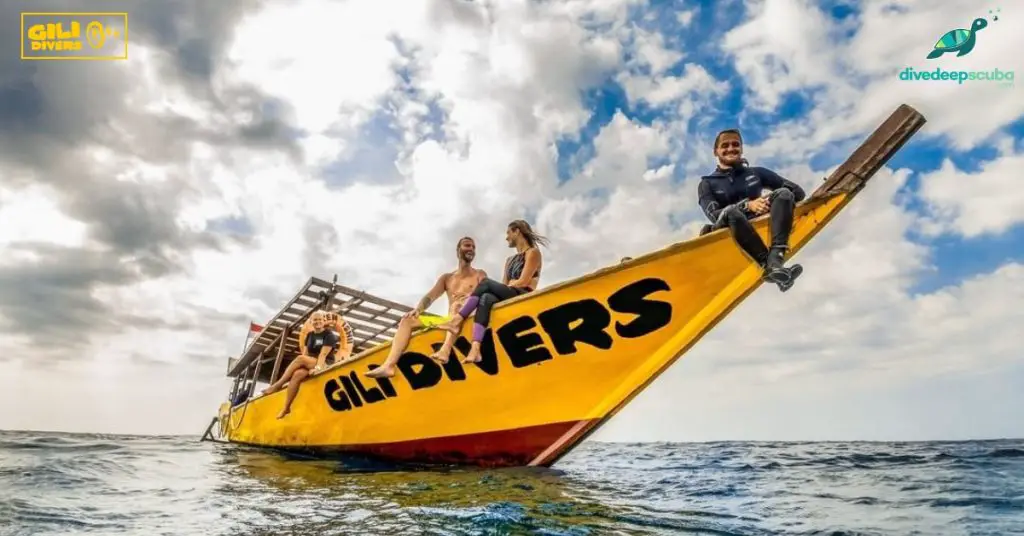 We spoke with Putri who has almost finished her DiveMaster training.
Her most memorable dive was to Sunset Point (also locally known as Manta Point) tagging on with a training dive group on only her 9th dive and witnessing a WHALE SHARK on her safety stop! We'll be heading there next with that little tip!
Out of all the dive centres, why did you choose Gili Divers for your professional dive training? 
"After chatting to 3 different dive shops, I loved how the owners' Jill and Nick sat down and were really kind and easy to talk to, explaining how the internship would be run. 
My instructor mentor is fun, friendly safe and sometimes a bit strict. Teaching all the skills to become a professional dive guide, but my favourite course at Gili Divers was my rescue! It was 3 months ago but feels like yesterday, it was tough and intense, but by the time of the final 'hell dive' I was so well-prepared, it was easy!"
" I was so well-prepared, it was easy!"
Gili Divers Accommodation and Pool Parties!
Gili Divers have dive bungalows on-site that have been recently renovated but still attract a great budget-travelling social crowd with their two backpackers party hostels. Dorm rooms and private rooms are modern, clean and bright and each hostel has a huge pool and common area. 
Try and hit one of the bi-weekly pool parties if you do happen to miss the dive.
In Gili Castle Hostel, you'll also find the island's only full-sized climbing wall and for a spot of deep water soloing with a 3meter plunge pool surrounding it.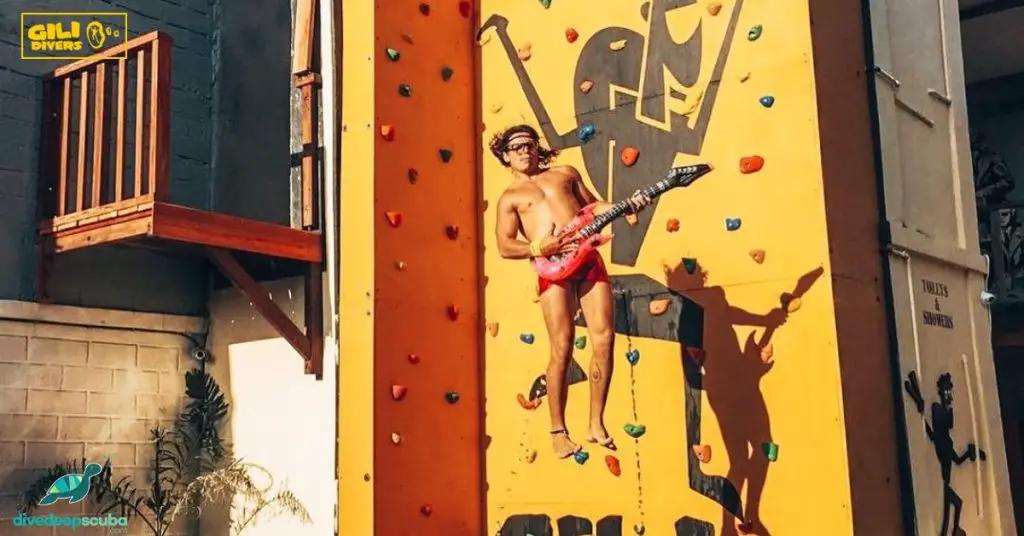 Follow Gili Divers on Instagram
Dive Centre #4 Blue Marlin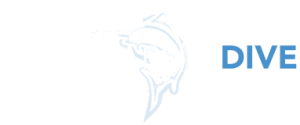 Last, but by no means the least, is the infamous Blue Marlin. Not only are they the very first established dive shop on the Gili Islands, but they are also home to the notorious Blue Marlin Monday night party.
Blue Marlin is the pioneering PADI dive shop opening its doors way back in 1992. Since then, owner and founder Simon Liddiard has smashed several world records in the world of tech diving and discovered some of Gili's most loved dive spots. 
Although the Blue Marlin family hasn't taken over the world, it has quite possibly taken over most of Indonesia! Once you've completed your dive training with their experience and fun-loving team of instructors on Gili T, you can then jet-set off to no less than 6 of their other dive destinations including:
We sat down with award-winning and world-renowned Course Director Holly Macleod who has been based on Gili T since 2013 and certified 696 IE candidates and 3,500 at the instructor level with a 100% pass rate!
Good odds eh?!
In between teaching the Instructor Development Course, you'll find her warming smile welcoming divers, blowing bubbles in the pool or enjoying a beer at the dive bar.
Her Instructor Development Course runs 9 times a year and a mere 20 days later, you can be a practising PADI dive instructor and travel the world for your career.
However, for those starting your SCUBA journey here, you'll find patient and passionate instructors who can even make classroom presentations easy and fun. 
Be sure to check out their house reef; "The Biorocks". Especially beautiful for an exploratory night dive where you can literally walk straight from the beachside restaurant and spend hours staring at little alien-like critters that frequent this world-renowned artificial coral reef restoration park after hours.
We had a chat with Chris at the bar who recommended his Open Water course with instructor Krit. After remarking that most courses will finish at the bar with a celebratory shot of Vodka Joss (you'll understand when you've tried it!)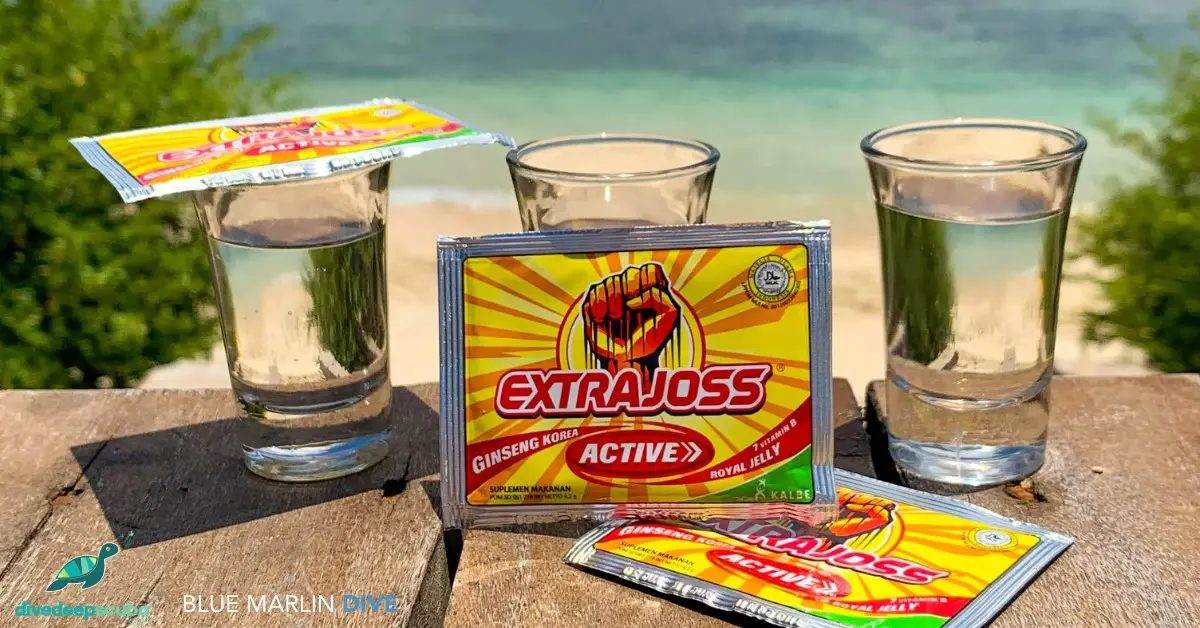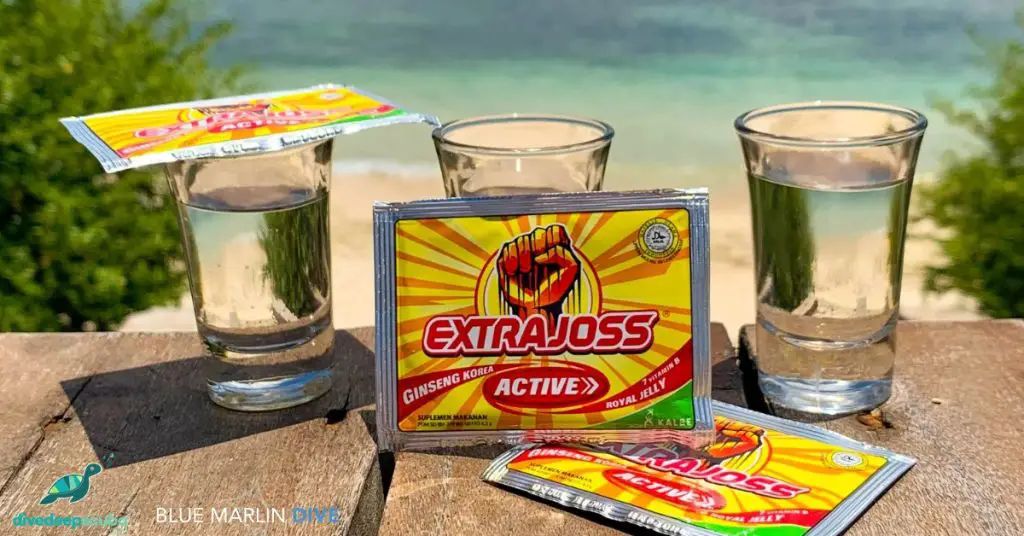 If you happen to be on Gili for a Monday evening, then you'll see the crowds drift from every direction towards Blue Marlin (the best time of arrival is 9:30-10 pm) ready to hear from the best local DJs whilst sampling some of Gili's finest shots and cocktails. We were fortunate enough to have a lay-in rather than dive-in for an early morning Tuesday pool session!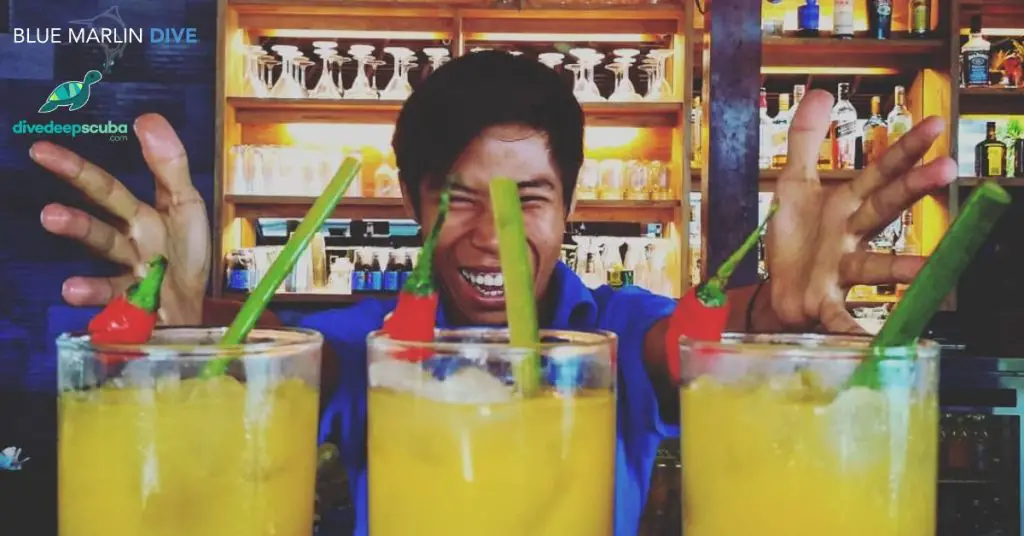 Having fully furnished rooms on-site makes it easy to crawl into bed after one too many Bintang, and make it up early for their amazing a la carte breakfast menu before the first dive.
Along with twin and double rooms spanning all the way down a peaceful floral shaded pool, there are several family suites to keep the kids in check.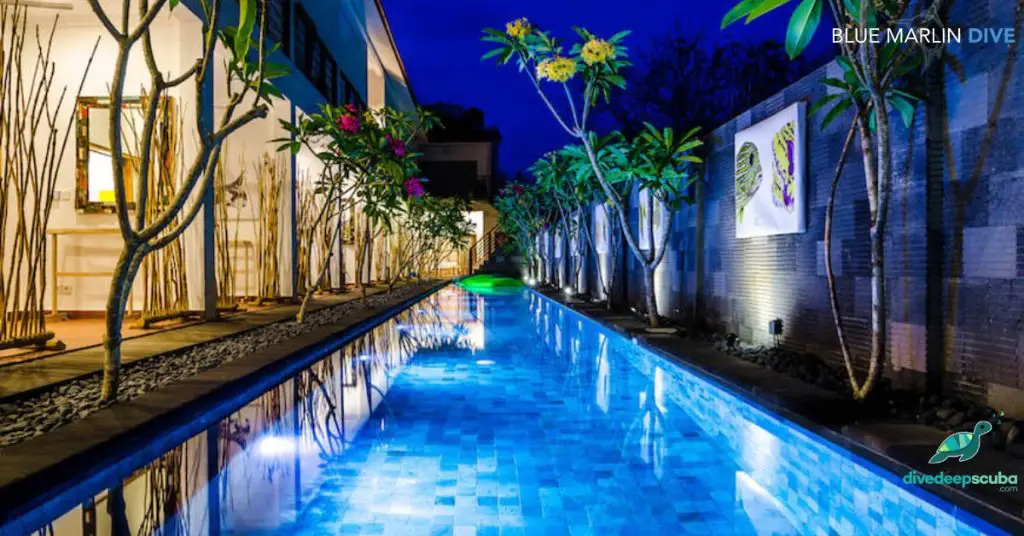 Follow Blue Marlin Dive on Instagram
Don't Forget Your Dive Insurance!
Before you go out on any dive trip or holiday, it is essential to make sure you have insurance that covers you if something goes wrong. Check out our dive insurance article for more information.
Or go straight to these dive insurance company websites:
Final Thoughts
After spending some time on Gili Trawangan, we know that one week is just not enough! The community is warm, the ocean warmer still, and the dive sites are second to none.
Gili T is a diving Mecca!
We really got treated like royalty in the dive centres we visited and thoroughly recommend any of them for your bucket list Gili T trip.
We fell in love with the island and will definitely be going back…or maybe, moving there…hmmmm!
Please share this article using the social media buttons!