What is the Most Popular Freediving Certification Agency?
AIDA International is the clear winner when it comes to the most popular freediving certification agency, however, other recognised agencies such as Apnea Academy, Apnea Total, CMAS, RAIDS, PADI, SSI, and Molchanovos are also reputable freediving agencies. 
Are you ready to become freedive certified, but unsure where to start? Starting with a reputable freediving certification agency will put you on the right foot.
Freediving is a great alternative to scuba diving, as it is one of the most natural ways to explore the mesmerising oceans with minimal impact on the environment. 
There are many freediving agencies you can choose from, but AIDA International takes the lead above all the other freediving agencies, mainly because they have been around the longest. 
AIDA is made up of world-class freedivers and instructors that incorporate high standards and quality of teaching, making AIDA the most recognised freediving agency worldwide. 
Within this article, we will talk about the following freedive agencies:
But, what makes AIDA stand out from the others?
Read on to find out more!
AIDA International: The Most Popular Freediving Certification Agency
AIDA International is the most popular freediving certification agency. Founded in 1992, AIDA has been recruiting freedivers since 1999, taking the lead when it comes to freedivers selecting their first experience in the popular breath-holding (APNEA) sport. 
In a global study taken in 2013, AIDA International was the winner for being the most popular freediving agency. 
AIDA is a non-profit organisation, recognised globally by professional freedivers, recreational divers, and even scientists that need to study the ocean while making minimal impact on the environment. 
AIDA freediving centres are also everywhere, so wherever you decide to go diving, you shouldn't have any trouble finding one. 
AIDA also focuses on innovating kids through their Youth Program and freediving safety in the Freediving Emergency Medical Responder (FEMR) Course.
Apart from AIDA's high level of instructors, it also sets the standards for safety and international competitions. 
While AIDA is the obvious choice, we can't forget all the other awesome freediving agencies, so let's dive in and check them out!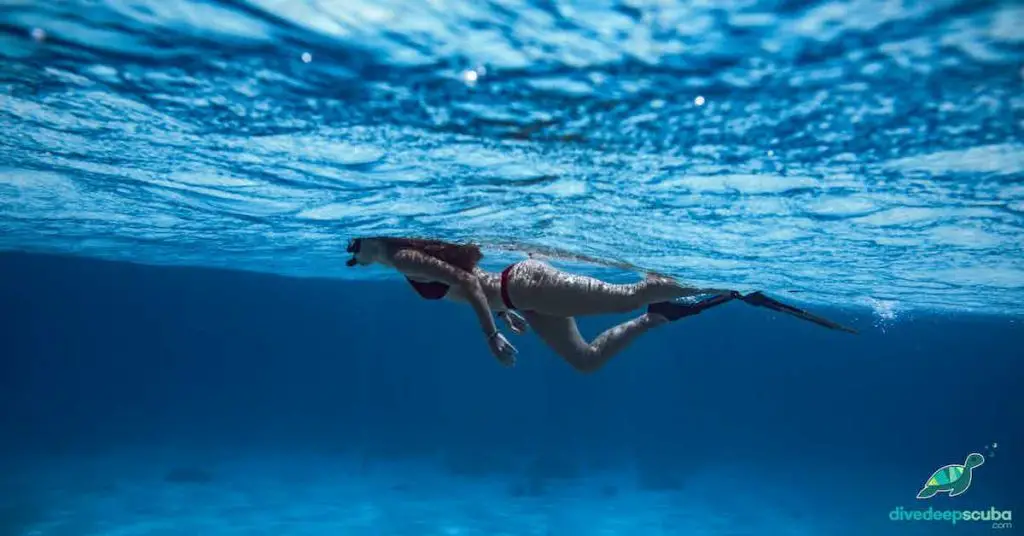 Other Types of Freediving Certification Agencies
The other popular freediving agencies include Apnea Academy, Apnea Total, CMAS, Molchanovs, PADI, RAID, and SSI.
There are seven other popular freediving certification agencies you can choose from. 
Each federation trains instructors to only teach the courses offered by that specific federation!
Take a read and if another federation fits your freediving needs, then it is fine to not go for the "most popular" freediving agency. 
Read on to find out freediving certification agency alternatives!
Apnea Academy
Apnea Academy is where most of their instructors are located. If you are mainly freediving in Europe, then you are going to bump into an Apnea Academy centre at some point!
Apnea Academy believes "everyone to approach freediving in an aware, safe, and fun way."
Apnea Academy provides step-by-step support to their students, including videoing technical tests in the pool and ocean to facilitate technical improvements. 
Apnea Total
Apnea Total was created by freediving lovers. If you want more than just a basic, standard freediving course*, then you may want to consider starting your discovery journey with Apnea Total.
*If you complete your basic training with Apnea Total, you may need to cross over or demonstrate your skills if you want to complete higher-level courses with another freediving certification agency. 
The cost of becoming a freediver with Apnea Total is among the lowest out of all the freediving certification agencies. 
Apnea Total also heavily focus on being environmentally friendly, facilitating initiatives to protect the environment throughout their freediving training.
So, if you are an ocean advocate or eco-warrior, you may want to dive with these guys!
CMAS
CMAS (Confédération Mondiale des Activités Subaquatiques) was founded by the one and only Jacques Yves Cousteau in 1959. 
In addition to being recognised as the official international federation for freediving by the International Olympic Committee, CMAS is also at the forefront of underwater scientific research and development. 
CMAS is popular for freedivers wanting to focus on their pool-related disciplines, but they also offer programs for recreational freediving with CMAS centres found all over the world. 
Molchanovs
Molchanovs is the "new", up-and-coming freediving certification agency with the biggest community of active freedivers. 
They use in-depth freediving materials and focus on performance and competition, which is regularly updated with the latest freediving developments and discoveries, plus the certification fees are very finance-friendly!
The Molchanovs educational system was created by Natalia Molchanova, one of the best freedivers of all time. Her son soon followed in her footsteps, and now he is the current world champion in two of the eight freediving disciplines. 
Molchanovs is not only famous for their freediving courses, but they have "the world's best freediving equipment", offering freediving wetsuits, fins, safety equipment, and bags to store all your gear.
SSI
Scuba Schools International (SSI) has been around for 50 years, making it the second-oldest agency for freediving. SSI is world recognised and incredibly popular!
Because of their age, many of the best freedivers in the world have opened their freediving centres through SSI, so choosing SSI will likely mean you will be training with some of the best freedivers. 
Freediving with SSI is similar to AIDA in terms of the materials you will use and the requirements you must meet to complete your freedive training. 
SSI is also very popular because of their reader-friendly materials on the MySSI app, which can be accessed on your mobile phone anywhere in the world, saving having to carry heaps of books on your trip, and allowing you to read or rewatch the material on the go. 
Once you complete your SSI freediving course, you can add your certification cards to your diver profile, the same way you would when taking a scuba diving course. 
The only downside to SSI is the higher certification and material fees, so you may have to pay more than other agencies. 
RAID
RAID is "the world's fastest growing diver training agency" and the first freediving agency to offer a complete range of online diver academic programs.
RAID is similar to SSI, in that the learning resources are all online. They offer a variety of freediving courses from beginner to instructor at very affordable prices.
PADI
PADI (Professional Association of Diving Instructors) is the most popular agency when it comes to scuba diving, and if you are already a PADI diver, you will have a smooth transition to learning to freedive with them too. 
The PADI freediver course is easy to follow with the e-learning book that can be found both online and on the PADI app. PADI centres are also everywhere, so whichever diving destination you choose in the world.
PADI are everywhere! You should have no problem finding a PADI freediving centre or instructor. 
The only downside to PADI is its certification fees, which like SSI, are slightly more expensive than other agencies.
Don't Forget Your Dive Insurance!
Before you go out on any dive trip or holiday, it is essential to make sure you have insurance that covers you if something goes wrong. Check out our dive insurance article for more information.
Or go straight to these dive insurance company websites:
If you liked this article, please follow us on Instagram, Twitter and like our Facebook page
Final Thoughts
The most popular freediving certification agency is AIDA International, yet, there are many other reputable agencies such as PADI, SSI, Apnea Academy, Apnea Total, CMAS, Molchanovs, and RAID to take the plunge with.
When selecting a freediving agency to start your APNEA journey, it is more important to find a freediving instructor that is right for you, not the organisation, but with the eight agencies to choose from, you will have no issue finding your match. 
Please share this article using the social media buttons!