Best Dive Sites in the World
One of the best things about Scuba diving is that it is hugely varied. No dive site is the same. Even the desires of each scuba diver could be hugely different, and that is what makes it interesting!
Scuba diving trips are an incredible way to travel and dive many of the best dive sites in the world! 
It is a difficult task to name the best dive sites in the world, as some dive sites might be best at certain times of the year, or appeal to certain divers. However, there are specific dive sites that are highly spoken of within the diving community, have excellent reviews and great conditions all year round! 
I can hear you asking, where are these incredible dive sites? Below you will find a list of some of the best dive sites in the world!
Barracuda Point, Malaysia
Blue Corner Wall, Micronesia
Great Blue Hole, Belize
Yongala, Australia
Silfra Fissure, Iceland
Manta Night Dive, Hawaii
Cape Kri, Indonesia
Cenote Angelita, Mexico
Tiger Beach, Bahamas
So, why are these dive sites so good? Let's dive in!
Barracuda Point, Sipadan Island, Malaysia
Diving at Barracuda point is most famous for the thousands of barracuda swimming in a tornado-like formation. Schools of whitetip sharks can swim past, joined by turtles and batfish. Not only are there outstanding large marine life to see, such as hammerhead sharks, but there is also incredible nudibranchs and shrimps for those divers into macro! There really is something for everyone!
Sipadan, the only Oceanic Island in Malaysia, is historically a volcano risen 600m from the seafloor. This makes this island perfect for Scuba diving, surrounded by deep ocean waters and incredible wall reefs. These deep waters are where you will find large marine life.
This dive site, along with many others, are within the Sabah Parks. Only 176 Sipadan permits are issued a day, in an attempt to help protect the marine and land ecosystem. This is incredible for conservation efforts but can make diving here difficult during high season. If you are planning a trip, try to secure permits during your stay beforehand! 
Follow the wall down, searching for the creatures hiding within. Drifting in the current will bring you to the Barracuda point, where your mind will be blown by the circulating power of the Barracuda. Don't forget to look all around you, keeping an eye out for Whitetip and hammerhead sharks!
After these amazing sites, start to shallow up and spend the last part of the dive in Coral Garden, searching for magnificent macro! Remember to dive carefully on coral reefs! Multiple turtles can be found relaxing on the reef and it is even possible to see reef sharks and Manta rays!
What is not to love? 
Blue Corner Wall, Palau, Micronesia
Blue Corner Wall is a section of the barrier reef, experiencing strong currents. Big top predators are attracted to these currents, such as the Grey Reef and Whitetip reef sharks, hunting large schooling fish. This dive site has incredible marine biodiversity, with rich reefs, fish and sharks. 
Palau, southwest of the Philippines, has many awesome dive sites. However, Blue Corner Wall is the one that is most talked about! There are numerous dive shops on the island diving on this corner, and even liveaboards stopping at this site. 
Jumping into the water up current allows you to drift dive down the reef to the corner. Here, you can take cover from the current by hooking to the reef crest and relaxing. Admire the rich diversity as you are surrounded by hundreds of fish and sharks. 
If you are into shark diving, the best time to visit Palau is between March and April. This is because sharks are mostly influenced by the currents and water temperature. Sharks prefer when the water is cooler and the currents are stronger! 
Another awesome dive site, will you be adding it to your bucket list?
Great Blue Hole, Belize
The Great Blue Hole in Belize is the largest sea hole in the world! Diving here, you can see nurse sharks, giant groupers and many types of reef sharks including the Caribbean reef shark and the Blacktip shark! 
This sinkhole has a diameter of over 300 metres (984 ft) and 125 metres (410 ft) deep. Such depths are too deep for recreational divers, although not for technical divers! Imagine entering the water, floating on the surface ready to submerge before the dive. You look down, and it is 410ft deep. Wow.
Dive trips to the Great Blue Hole are day trips, with one dive in the hole and a couple of dives in surrounding reefs. During the dive, the most important thing is to keep an eye on your depth and stay close to your buddy!
The Great blue hole was a limestone cave, formed during the last glacial period. We can be sure of this, as the hole contains geological structures that can only form in the air. As the sea level began to rise, the hole was slowly filled, and corals grey vertically up the inside of the wall. 
Yongala, Australia
Yongala is a shipwreck, located in the Central section of the Great Barrier Reef Marine Park. This dive site is a magnet for all divers, not only wreck divers. Covered in vibrant corals and home to a range of marine life from sea snakes to potato cod! This dive site will blow your mind with the rich marine life, corals and history.
This dive site is well known for the wreck, but also the massive fish living within. Surrounding the wreck, giant trevallies can be found hunting batfish. Tiger sharks, bull sharks and eagle rays can also be seen circling the wreck.
You can dive here all year round, but the best time to visit the Great Barrier reef is from June to October. This is when rainfall is most uncommon, the water is clearest and diving conditions are best. 
Silfra Fissure, Thingvellir National Park, Iceland
Silfra Fissure is an incredibly unique dive site, as you can dive between the South American and Eurasian tectonic plates, touching both simultaneously. This dive is on many bucket lists, diver and non-diver, as it is possible to both snorkel and dive this site. This dive site has incredible clarity, rich blue water and rainbows dancing on Silfra's bed when the sun shines and penetrates the water. 
The North American and Eurasian plates are separating 2cm a year, tearing fissures through the land that separates them. Underground water has performed along filtration process, travelling 60km from a northern Glacier. This makes the water in the fissure incredibly clear and drinkable. 
As it travels underground, the water is consistently between two and three degrees! Very cold! The near-freezing temperatures call for a drysuit! A water-resistant suit keeps you dry and warm, and can be used for both snorkelling and diving! To dive here, you must have at least 10 logged dives in a drysuit and meet other requirements. 
Manta Night Dive, Kona, Hawaii
This night dive is incredibly unique, making it one of the top destinations and activities on this Island. Descending down to a sandy observational area, light beams illuminate the area, attracting plankton. Manta's swoop down, feasting on the plankton, elegantly circling the group.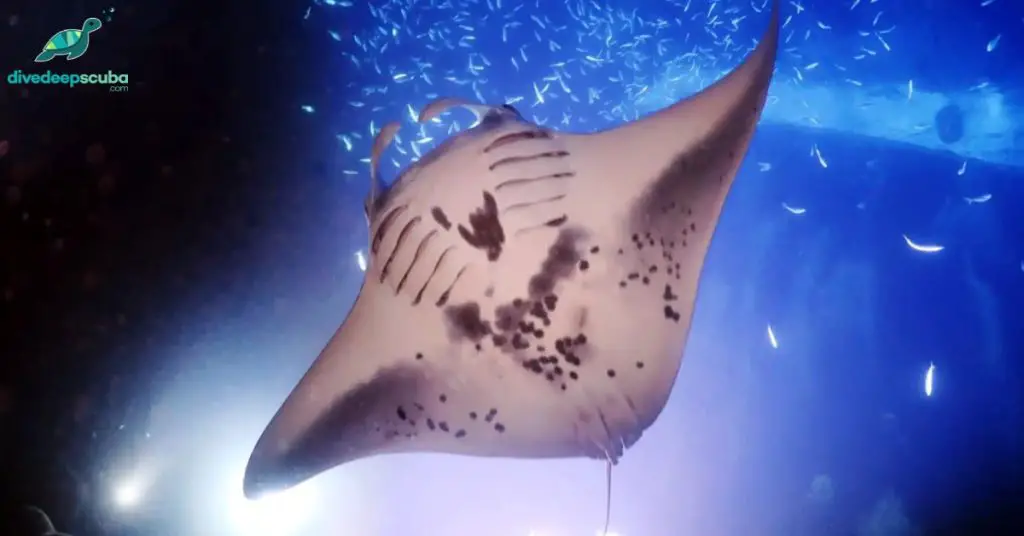 Getting so close to a Manta has been made easy, observing their beautiful structure as they swim over your head and dance in front of you. Witnessing the grace of these animals at night has a special sense of solitary, as your own observation is restricted to your torch. 
Cape Kri, Raja Ampat, Indonesia
Cape Kri is a reef dive, with both shallow reef gardens and a deeper drop-off. A mixture of currents can be experienced here, offering incredibly high biodiversity. Raja Ampat is likely to be on every Scuba diver's bucket list, packed with healthy coral reefs and marine animals. 
If you are a Scuba diver who loves marine life and colourful corals, you will love Cape Kri. The coral wall is best visited between October and April, where the conditions are best and the number of marine visitors is at its highest. 
Raja Ampat is located in Indonesia, and home to numerous dive sites, putting it on the map for some of the most incredible Scuba diving in the world. Covered in 540 types of corals and home to 75% of the world's species, this dive site is a dream come true! 
Large schools of Tuna, batfish and barracudas can be seen dancing in the currents and their scales glistening in the sun. Sea clams cover the seafloor, with friendly dugongs and turtles passing by. 
What more could you want?
Cenote Angelita, Tulum, Mexico
Cenote Angelita in Tulum Mexico is a must-have on the bucket list of a Cave diver! Cenote diving is spectacular, but this specific dive site is unique for its layer of hydrogen sulphate, separating the 30m of clear freshwater from the saltwater below.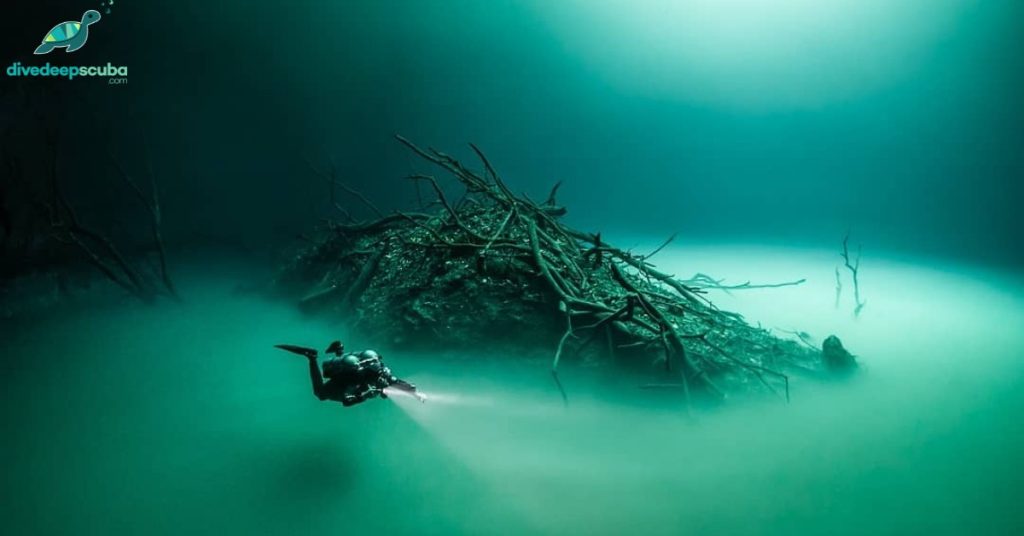 Off the road and a short trek through the Mexican jungle, you will arrive at the crystal clear cenote. After entering the water and sinking down, it might seem like an ordinary cenote dive. But as you reach closer to the bottom, you will discover the captivating second surface, flowing like a river. 
The hydrogen sulfate creates a cloudy substance, which makes you feel like your floating above the clouds. Fantastic underwater photo opportunities can be made here, hovering above branches protruding out from the cloudy layer.
Reaching over 100 meters deep, Cenote Angelita has multiple layers of salt and fresh water. Nearby tree branches suspend around the edges, adding more texture and beauty to the cloud-like river. 
Tiger Beach, Grand Bahama Island, Bahamas
Tiger beach is most popular for its shark diving! You can swim alongside hammerheads, oceanic whitetips and reef sharks! The sandy bottom is a perfect place for divers to remain stationary, while you are surrounded by the ocean's top predators!
The Bahamas is home to the third-largest barrier reef, with numerous mindblowing dive sites! Tiger Beach is of course one of the most popular dive sites, attracting divers from all over the world to admire the huge collection of shark species!
Kneeling on the sandy bottom while Lemon sharks and Caribbean reef sharks cruise past you and devour their provided feast! When diving with sharks, always have a guide, follow their instructions and remain calm!
The weather in the Bahamas is always beautiful, sunny 340 days a year! Visiting the Bahamas June-October can increase your chances of avoiding the crowds, while still experiencing optimum diving conditions!
Don't Forget Your Dive Insurance!
Before you go out on any dive trip or holiday, it is essential to make sure you have insurance that covers you if something goes wrong. Check out our dive insurance article for more information.
Or go straight to these dive insurance company websites:
If you liked this article, please follow us on Instagram, Twitter and like our Facebook page
Final thoughts
There are incredible dive sites all over the world! It is hard to create a small list when there are so many, all offering something different. This article touched on some of the most popular and highly reviewed by the diving community, only a fraction of what is out there. 
Hundreds of dive sites are waiting to be explored, from tropical reefs to cold water wrecks! Whichever type of diving you prefer, there is something out there for you!
Please share this article using the social media buttons!